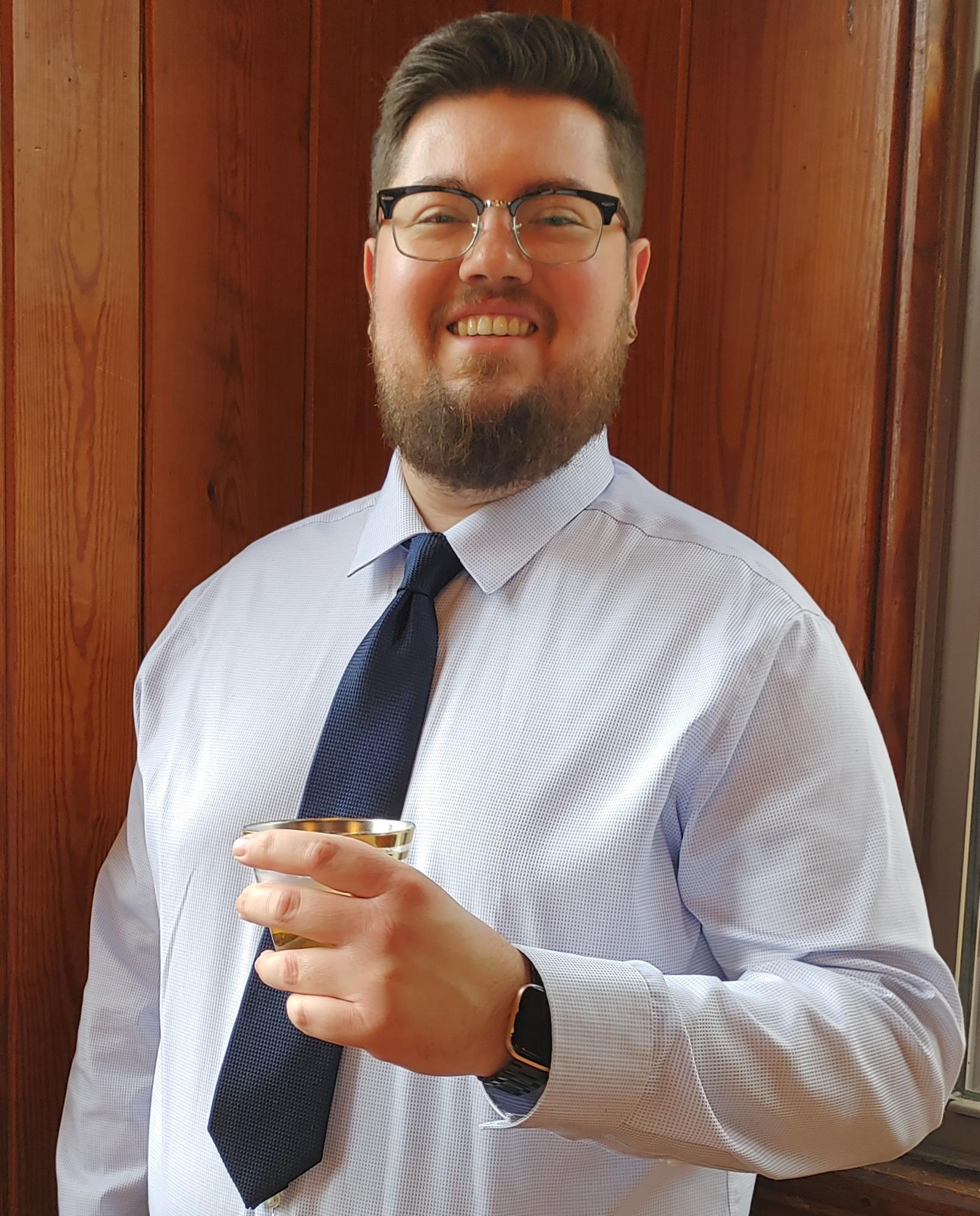 Please join us in welcoming Chasz Griego to the Carnegie Mellon University Libraries as Open Science Postdoctoral Associate. Prior to joining the Libraries, Chasz was a PhD Candidate in Chemical Engineering doing computational materials science at the University of Pittsburgh. We asked Chasz, who uses he/him/his pronouns, a few questions about himself and his plans for his new role. What are your goals for this year as our new Open Science Postdoctoral Associate? I am brand new to the world of library sciences and systems, so I'm planning to be a sponge and absorb as much information as I can to make the most impact in my role! It's simultaneously intimidating and exciting! I anticipate that in this role, I will have the pleasure of working with many STEM departments at CMU, so there's a lot I hope to learn about each. This includes learning how they handle their data and how they publish research workflows. I hope to gauge how customary it is for groups to publish research that includes accessible data and workflows that are straightforward to follow and reproduce.
I'm eager to simply learn about open science as a field of research. I'm coming from more niche fields like computational chemistry and materials science, so my goal is to shift towards a different mindset to approach broader research problems. Hopefully by gathering knowledge about the open science landscape at CMU, discipline to discipline, I can measure how open science practices affect different disciplines in similar ways. Overall, I'm excited to hear about open science goals in each department and advocate tools offered through the CMU libraries!
How has your prior experience prepared you for this role at the Carnegie Mellon University Libraries?
While doing research for my PhD, I had several outlets to exercise my true passions: creating useful tools and teaching others how to use them.
At Pitt, I was studying a model that predicted catalyst properties, and not just for ten catalysts, but thousands. This model was useful because it let us produce tons of data, but it presented the challenge of finding ways to manage this data and teach people how to use and interpret the model. I developed open-source Python software that let researchers run the model with their own systems and obtain easy-to-interpret data. I even published tutorials that used open data sets in Jupyter Notebooks via Authorea, a platform that lets researchers collaboratively write articles, include access to data and interactive figures, and participate in public peer review. By undergoing that kind of process, I could understand a new direction in which researchers could head, and now I'm prepared for an opportunity to share that knowledge. I also had several opportunities to teach students how to use programming to solve engineering problems, which was very fulfilling. Those experiences also prepared me to enter a role where I'm teaching people how to use tools to solve problems with their data.
What projects are you excited to tackle in your first few months?
I'm really excited to dig into the user data belonging to tools and workshops from the Open Science and Data Collaborations program like Kilthub, Open Science Framework, Carpentries Workshops, and the dataCoLab. Particularly, I'm interested to see which departments use and/or participate the most, survey them on what aspects of the tools and workshops are most helpful, and use this information to promote these services to departments that could have major benefits with more activity.
I'm especially interested in departments that have research projects involving simulations. My biggest goal is to help young researchers who are just starting to learn how to manage this type of data collection. I want to help them establish good practices and habits early, so that they can store and share their simulation protocols and data to help other researchers find answers without needing to run repeat simulations. With that said, I'm excited to help disseminate these services from the OSDC program to simulation-based research groups that are less engaged in Kilthub, workshops, etc.
What do you like to do outside of work?
I've been playing the guitar for 15 years, and I've been in a few bands over the years. I'm currently in a band called Danvers that plays throwback 90's style emo-punk rock. It's a nice outlet that lets me see Pittsburgh through the lens of local music scenes, and in 2019, I even played small weekend shows in Detroit, Chicago, and Brooklyn. Being from New Mexico, I never thought I'd have a chance to perform in cities bigger than Albuquerque!
I recently found a love for playing and collecting board games with my fiancé. Some of our favorites include Catan, Wingspan, 7 Wonders, and Pandemic (before the game turned into reality). We still mourn the short life of Mana Boardgame Tavern on the northside, and hope that one day another board game lounge/café/bar could fill its place. We actually dream of opening our own board game bar, if it's the right time and place!