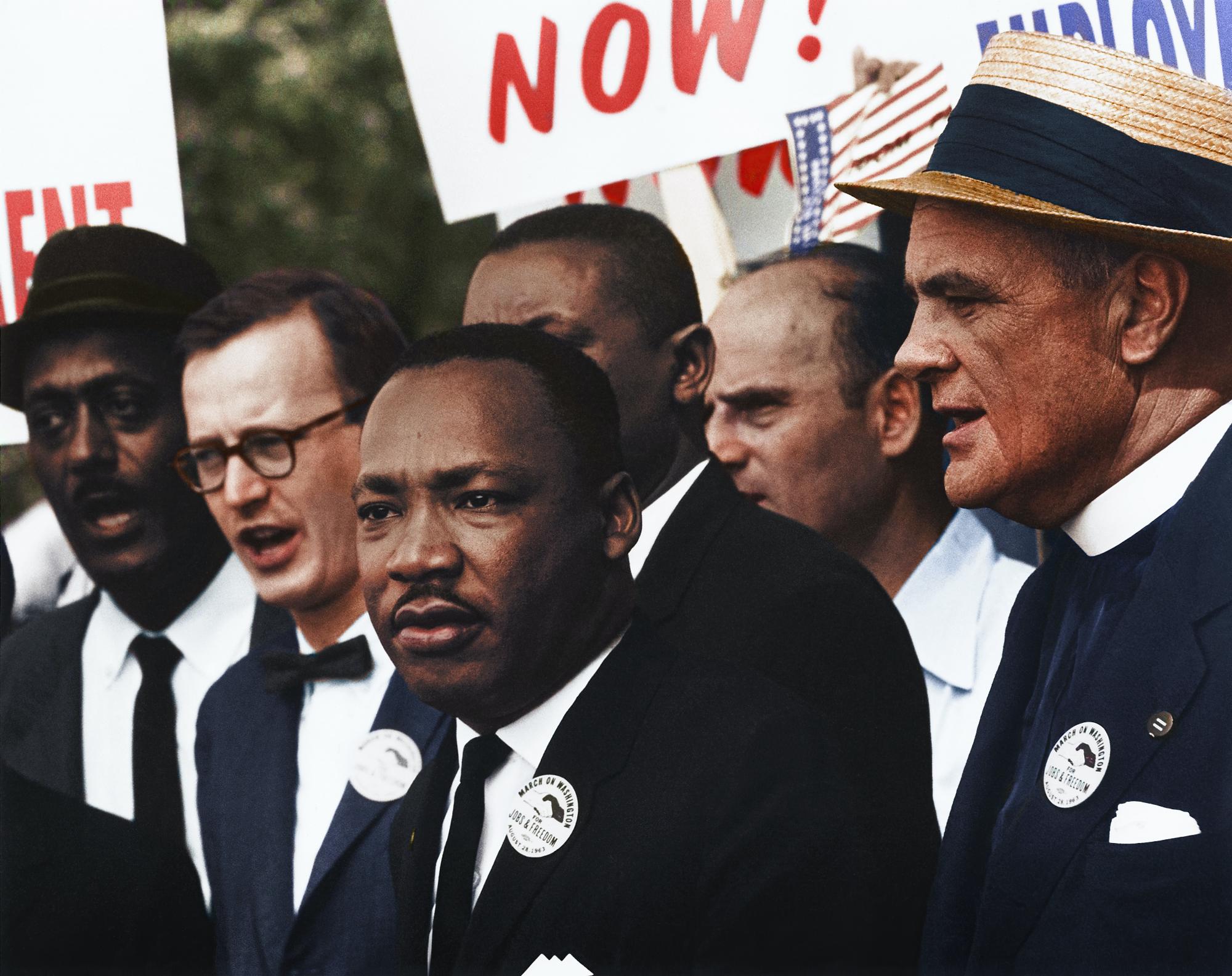 February's Diversity Book Display centers around Black History Month. Though this topic is revisited every year in the diversity display, the books highlighted are rarely repeated from past displays, in part because the Libraries get many books of relevance to this topic. For more titles, visit the 2021 Black History Month Book Display and the Anti-Racist Reading List.
A physical book display is now available at the Libraries with the selection rotating weekly. Some of the eBooks listed below also have a physical listing. Please check the availability.
Special thanks to our Materials Processing Coordinator, Leah Zande, for compiling this list. Feature image of Rev. Dr. Martin Luther King, Jr. courtesy of Unseen Histories on Unsplash.
---
An Afro-Indigenous History of the United States
Mays, Kyle (2021)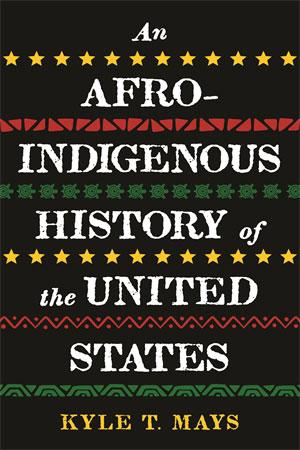 Beginning with pre-Revolutionary America and moving into the movement for Black lives and contemporary Indigenous activism, Afro-Indigenous historian Kyle T. Mays argues that the foundations of the US are rooted in antiblackness and settler colonialism, and that these parallel oppressions continue into the present. He explores how Black and Indigenous peoples have always resisted and struggled for freedom, sometimes together, and sometimes apart. Whether to end African enslavement and Indigenous removal or eradicate capitalism and colonialism, Mays show how the fervor of Black and Indigenous peoples calls for justice have consistently sought to uproot white supremacy.

Mays uses a wide-array of historical activists and pop culture icons, "sacred" texts, and foundational texts like the Declaration of Independence and Democracy in America. He covers the civil rights movement and freedom struggles of the 1960s and 1970s, and explores current debates around the use of Native American imagery and the cultural appropriation of Black culture. Mays compels us to rethink both our history as well as contemporary debates and to imagine the powerful possibilities of Afro-Indigenous solidarity. - Publisher's Description

Request this Title
---
Black Campus Life: The Worlds Black Engineering Majors Make at a Historically White Institution
Tichavakunda, Antar A. (2021)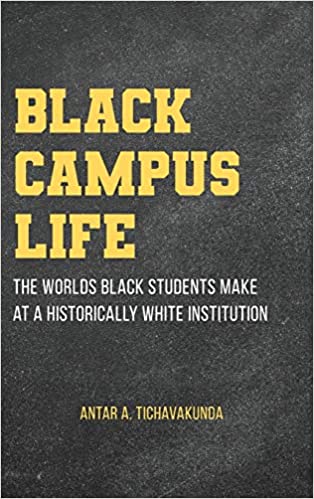 An in-depth ethnography of Black engineering students at a historically White institution, "Black Campus Life" examines the intersection of two crises, up close: the limited number of college graduates in science, technology, engineering, and math (STEM) fields, and the state of race relations in higher education. Antar Tichavakunda takes readers across campus, from study groups to parties and beyond as these students work hard, have fun, skip class, fundraise, and, at times, find themselves in tense racialized encounters.

By consistently centering their perspectives and demonstrating how different campus communities, or social worlds, shape their experiences, Tichavakunda challenges assumptions about not only Black STEM majors but also Black students and the "racial climate" on college campuses more generally. Most fundamentally, "Black Campus Life" argues that Black collegians are more than the racism they endure. By studying and appreciating the everyday richness and complexity of their experiences, we all—faculty, administrators, parents, policymakers, and the broader public—might learn how to better support them. - Publisher's Description

Request this Title
---
The History of Black Studies
Alkalimat, Abdul (2021)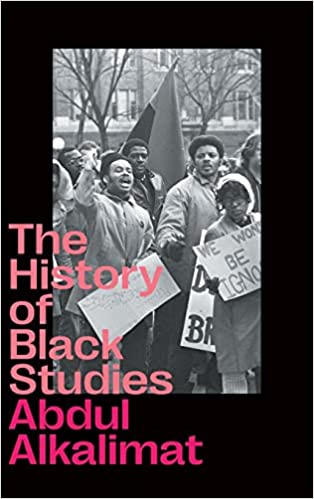 A surge of African American enrollment and student activism brought Black Studies to many US campuses in the 1960s. Sixty years later, Black Studies programs are taught at more than 1,300 universities worldwide. This book is the first history of how that happened.

Black Studies founder and movement veteran Abdul Alkalimat offers a comprehensive history of the discipline that will become a key reference for generations to come. Structured in three broadly chronological sections - Black Studies as intellectual history; as social movement; and as academic profession - the book demonstrates how Black people themselves established the field long before its institutionalization in university programs.

At its heart, Black Studies is profoundly political. Black Power, the New Communist Movement, the Black women's and students' movements – each step in the journey for Black liberation influenced and was influenced by this revolutionary discipline. - Publisher's Description

Request this Title
---
Birth of a White Nation: The Invention of White People and Its Relevance Today
Battalora, Jacqueline M. (2021)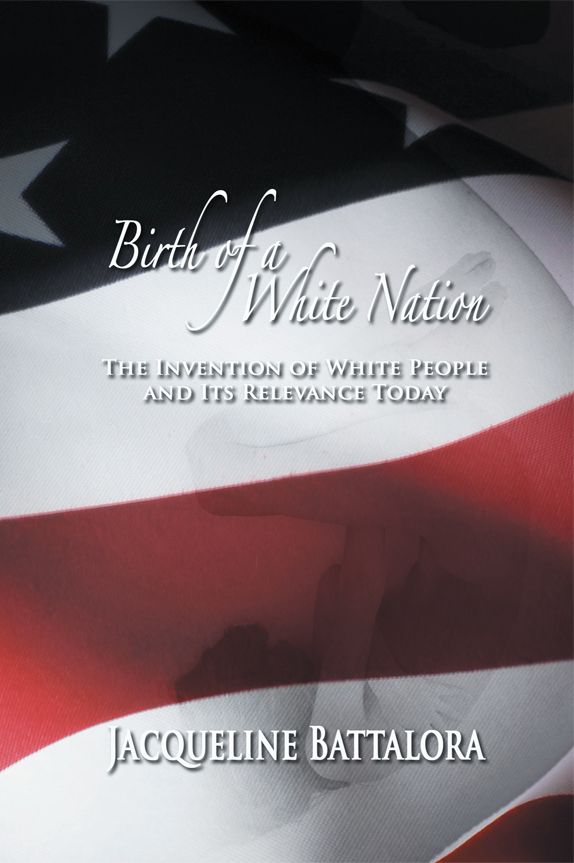 "Birth of a White Nation" is a fascinating book on race in America that begins with an exploration of the moment in time when "white people," as a separate and distinct group of humanity, were invented through legislation and the enactment of laws. The book provides a thorough examination of the underlying reasons as well as the ways in which "white people" were created. It also explains how the creation of this distinction divided laborers and ultimately served the interests of the elite. The book goes on to examine how foundational law and policy in the U.S. were used to institutionalize the practice of "white people" holding positions of power. Finally, the book demonstrates how the social construction and legal enactment of "white people" has ultimately compromised the humanity of those so labeled.

Jacqueline Battalora was born in Edinburg, Scotland and lived in Antwerp, Belgium for six years before her family relocated to Victoria, Texas. It was this experience of attending high school and middle school in Victoria that informed her understanding of race in America. While she is currently a lawyer and professor of sociology and criminal justice at Saint Xavier University, she is also a former Chicago Police officer. She holds a Ph.D. from Northwestern University and has been engaged in anti-racist training since the mid 1990s. - Publisher's Description

Request this Title
---
Pushing Cool: Big Tobacco, Racial Marketing, and the Untold Story of the Menthol Cigarette
Wailoo, Keith (2021)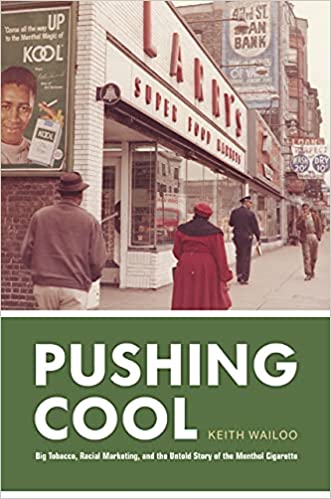 Spanning a century, "Pushing Cool" reveals how the twin deceptions of health and Black affinity for menthol were crafted—and how the industry's disturbingly powerful narrative has endured to this day.

Police put Eric Garner in a fatal chokehold for selling cigarettes on a New York City street corner. George Floyd was killed by police outside a store in Minneapolis known as "the best place to buy menthols." Black smokers overwhelmingly prefer menthol brands such as Kool, Salem, and Newport. All of this is no coincidence. The disproportionate Black deaths and cries of "I can't breathe" that ring out in our era—because of police violence, COVID-19, or menthol smoking—are intimately connected to a post-1960s history of race and exploitation.

In "Pushing Cool," Keith Wailoo tells the intricate and poignant story of menthol cigarettes for the first time. He pulls back the curtain to reveal the hidden persuaders who shaped menthol buying habits and racial markets across America: the world of tobacco marketers, consultants, psychologists, and social scientists, as well as Black lawmakers and civic groups including the NAACP. Today most Black smokers buy menthols, and calls to prohibit their circulation hinge on a history of the industry's targeted racial marketing. In 2009, when Congress banned flavored cigarettes as criminal enticements to encourage youth smoking, menthol cigarettes were also slated to be banned. Through a detailed study of internal tobacco industry documents, Wailoo exposes why they weren't and how they remain so popular with Black smokers. - Publisher's Description

Request this Title
---
Black Gathering: Art, Ecology, Ungiven Life
Cervenak, Sarah Jane (2021)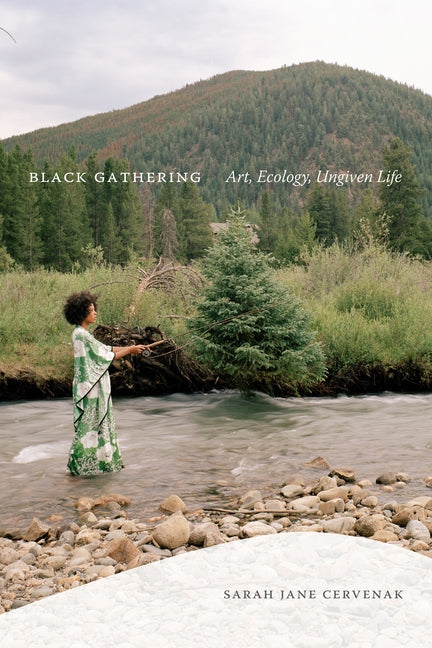 In Black Gathering Sarah Jane Cervenak engages with Black artists and writers who create alternative spaces for Black people to gather free from interruption or regulation. Drawing together Black feminist theory, critical theories of ecology and ecoaesthetics, and Black aesthetics, Cervenak shows how novelists, poets, and visual artists such as Gayl Jones, Toni Morrison, Clementine Hunter, Samiya Bashir, and Leonardo Drew advance an ecological imagination that unsettles Western philosophical ideas of the earth as given to humans. In their aestheticization and conceptualization of gathering, these artists investigate the relationships among art, the environment, home, and forms of Black togetherness.

Cervenak argues that by offering a formal and conceptual praxis of gathering, Black artists imagine liberation and alternative ways of being in the world that exist beyond those Enlightenment philosophies that presume Black people and earth as given to enclosure and ownership. - Publisher's Description

Request this Title
---
Black Software: The Internet & Racial Justice, from the AfroNet to Black Lives Matter
McIlwain, Charlton D. (2020)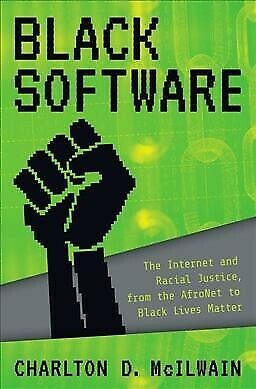 Activists, pundits, politicians, and the press frequently proclaim today's digitally mediated racial justice activism the new civil rights movement. As Charlton D. McIlwain shows in this book, the story of racial justice movement organizing online is much longer and varied than most people know. In fact, it spans nearly five decades and involves a varied group of engineers, entrepreneurs, hobbyists, journalists, and activists. But this is a history that is virtually unknown even in our current age of Google, Facebook, Twitter, and Black Lives Matter.

Beginning with the simultaneous rise of civil rights and computer revolutions in the 1960s, McIlwain, for the first time, chronicles the long relationship between African Americans, computing technology, and the Internet. In turn, he argues that the forgotten figures who worked to make black politics central to the Internet's birth and evolution paved the way for today's explosion of racial justice activism. From the 1960s to present, the book examines how computing technology has been used to neutralize the threat that black people pose to the existing racial order, but also how black people seized these new computing tools to build community, wealth, and wage a war for racial justice. Through archival sources and the voices of many of those who lived and made this history, "Black Software" centralizes African Americans' role in the Internet's creation and evolution, illuminating both the limits and possibilities for using digital technology to push for racial justice in the United States and across the globe. - Publisher's Description

Request this Title
---
Privilege and Punishment: How Race and Class Matter in Criminal Court
Clair, Matthew (2020)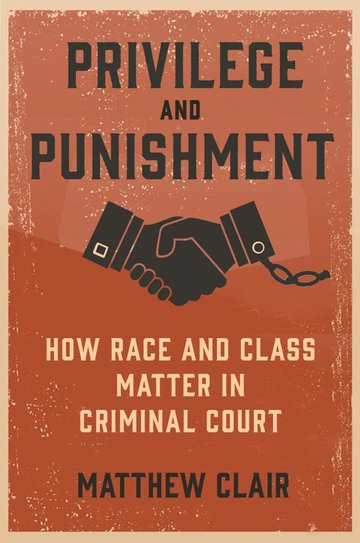 The number of Americans arrested, brought to court, and incarcerated has skyrocketed in recent decades. Criminal defendants come from all races and economic walks of life, but they experience punishment in vastly different ways. Privilege and Punishment examines how racial and class inequalities are embedded in the attorney-client relationship, providing a devastating portrait of inequality and injustice within and beyond the criminal courts.

Matthew Clair conducted extensive fieldwork in the Boston court system, attending criminal hearings and interviewing defendants, lawyers, judges, police officers, and probation officers. In this eye-opening book, he uncovers how privilege and inequality play out in criminal court interactions. When disadvantaged defendants try to learn their legal rights and advocate for themselves, lawyers and judges often silence, coerce, and punish them. Privileged defendants, who are more likely to trust their defense attorneys, delegate authority to their lawyers, defer to judges, and are rewarded for their compliance. Clair shows how attempts to exercise legal rights often backfire on the poor and on working-class people of color, and how effective legal representation alone is no guarantee of justice.
Superbly written and powerfully argued, "Privilege and Punishment" draws needed attention to the injustices that are perpetuated by the attorney-client relationship in today's criminal courts, and describes the reforms needed to correct them. - Publisher's Description

Request this Title
---
Racialized Media: The Design, Delivery, and Decoding of Race and Ethnicity
Hughey, Matthew; González-Lesser, Emma (2020)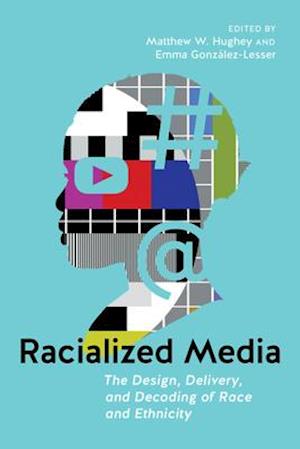 From "Black Panther" to #OscarsSoWhite, the concept of "race," and how it is represented in media, has continued to attract attention in the public eye. In "Racialized Media," Matthew W. Hughey, Emma González-Lesser, and the contributors to this important new collection of original essays provide a blueprint to this new, ever-changing media landscape.

With sweeping breadth, contributors examine a number of different mediums, including film, television, books, newspapers, social media, video games, and comics. Each chapter explores the impact of contemporary media on racial politics, culture, and meaning in society. Focusing on producers, gatekeepers, and consumers of media, this book offers an inside look at our media-saturated world, and the impact it has on our understanding of race, ethnicity, and more. Through an interdisciplinary lens, "Racialized Media" provides a much-needed look at the role of race and ethnicity in all phases of media production, distribution, and reception. - Publisher's Description

Request this Title
---
Confronting Equity and Inclusion Incidents on Campus
Oliha-Donaldson, Hannah (2020)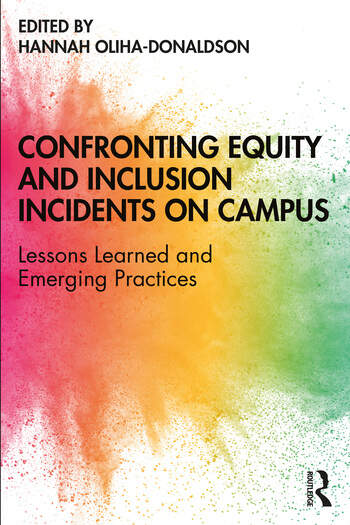 This timely book unpacks critical incidents occurring on college and university campuses across the nation. Featuring the voices of faculty, staff, and students, this edited volume offers an interdisciplinary exploration of contemporary diversity, equity, and inclusion (DEI) challenges at the intersections of race, class, gender, and socioeconomic status, while illuminating lessons learned and promising practices. The narratives in this book articulate contemporary challenges, unpack real events, and explore both failed and successful responses, ultimately shining a spotlight on emerging solutions and opportunities for change.

Marrying theory and practice, Confronting Equity and Inclusion Incidents on Campus provides a framework for building more inclusive campuses that embody equity and the values of community. A key resource for professionals, students, and scholars of higher education, this volume provides understanding for fostering educational spaces that cultivate belonging among all members of higher education communities, including those historically underrepresented and marginalized. - Publisher's Description

Request this Title
---
Twisted: The Tangled History of Black Hair Culture
Oliha-Donaldson, Hannah (2020)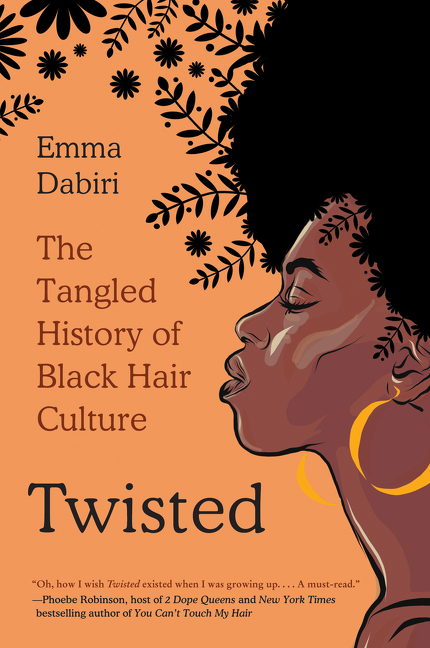 Emma Dabiri can tell you the first time she chemically straightened her hair. She can describe the smell, the atmosphere of the salon, and her mix of emotions when she saw her normally kinky tresses fall down her shoulders. For as long as Emma can remember, her hair has been a source of insecurity, shame, and—from strangers and family alike—discrimination. And she is not alone.

Despite increasingly liberal world views, black hair continues to be erased, appropriated, and stigmatized to the point of taboo. Through her personal and historical journey, Dabiri gleans insights into the way racism is coded in society's perception of black hair—and how it is often used as an avenue for discrimination. Dabiri takes us from pre-colonial Africa, through the Harlem Renaissance, and into today's Natural Hair Movement, exploring everything from women's solidarity and friendship, to the criminalization of dreadlocks, to the dubious provenance of Kim Kardashian's braids.

Through the lens of hair texture, Dabiri leads us on a historical and cultural investigation of the global history of racism—and her own personal journey of self-love and finally, acceptance.

Deeply researched and powerfully resonant, "Twisted" proves that far from being only hair, black hairstyling culture can be understood as an allegory for black oppression and, ultimately, liberation. - Publisher's Description

Request this Title
---
Sickening: Anti-Black Racism and Health Disparities in the United States
Pollock, Anne (2021)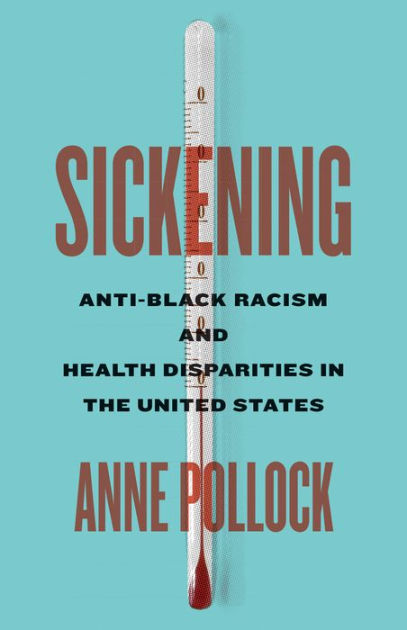 A crucial component of anti-Black racism is the unconscionable disparity in health outcomes between Black and white Americans. "Sickening" examines this institutionalized inequality through dramatic, concrete events from the past two decades, revealing how unequal living conditions and inadequate medical care have become routine.

From the spike in chronic disease after Hurricane Katrina to the lack of protection for Black residents during the Flint water crisis—and even the life-threatening childbirth experience for tennis star Serena Williams—author Anne Pollock takes readers on a journey through the diversity of anti-Black racism operating in healthcare. She goes beneath the surface to deconstruct the structures that make these events possible, including mass incarceration, police brutality, and the hypervisibility of Black athletes' bodies. Ultimately, "Sickening" shows what these shocking events reveal about the everyday racialization of health in the United States.

Concluding with a vital examination of racialized healthcare during the COVID pandemic and the Black Lives Matter rebellions of 2020, "Sickening" cuts through the mind-numbing statistics to vividly portray healthcare inequalities. In a gripping and passionate style, Pollock shows the devastating reality and consequences of systemic racism on the lives and health of Black Americans. - Publisher's Description

Request this Title
---
Recovering Black Storytelling in Qualitative Research: Endarkened Storywork
Toliver, S. R. (2022)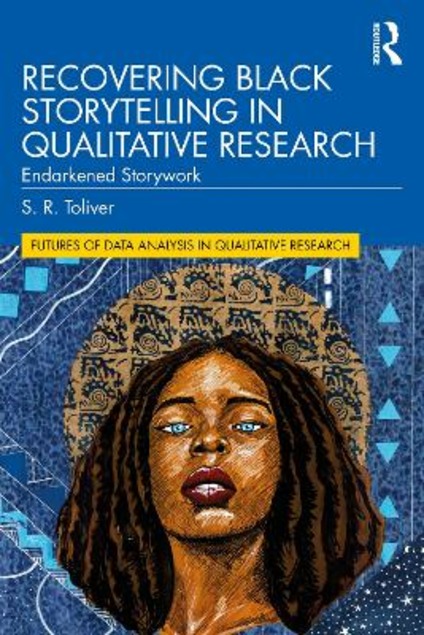 This research-based book foregrounds Black narrative traditions and honors alternative methods of data collection, analysis, and representation. Toliver presents a semi-fictionalized narrative in an alternative science fiction setting, refusing white-centric qualitative methods and honoring the ways of the griots who were the scholars of their African nations.

By utilizing Black storytelling, Afrofuturism, and womanism as an onto-epistemological tool, this book asks readers to elevate Black imaginations, uplift Black dreams, and consider how Afrofuturity is qualitative futurity. By centering Black girls, the book considers the ethical responsibility of researchers to focus upon the words of our participants, not only as a means to better understand our historic and current world, but to better situate inquiry for what the future world and future research could look like. Ultimately, this book decenters traditional, white-centered qualitative methods and utilizes Afrofuturism as an onto-epistemological tool and ethical premise. It asks researchers to consider how we move forward in data collection, data analysis, and data representation by centering how Black girls reclaim and recover the past, counter negative and elevate positive realities that exist in the present, and create new possibilities for the future.

The semi-fictionalized narrative of the book highlights the intricate methodological and theoretical work that undergirds the story. It will be an important text for both new and seasoned researchers interested in social justice. Informed and anti-racist researchers will find "Endarkened Storywork" a useful tool for educational, cultural, and social critiques now and in the future. - Publisher's Description

Request this Title