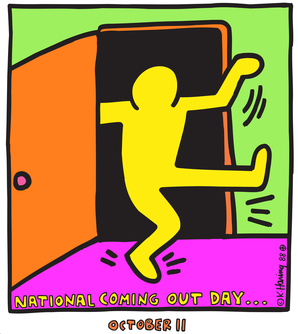 National Coming Out Day was established on Oct. 11, 1988, to commemorate the National Gay & Lesbian March on Washington one year earlier. As I recall, that march was more like a street party for the simple fact that we filled the streets of Washington, DC so that walking anywhere was impossible. We celebrated as strong, vibrant survivors, and the excitement stayed with us as we returned home to continue the fight for rights and recognition.
Whether searching for ways to define ourselves or to understand others, the library is a time-honored place for learning about LGBTQIA+ lives and stories. Ethan Pullman compiled an excellent LGBTQIA+ research guide listing many helpful books, articles, websites, organizations and more. 
I'd like to recommend a few more resources:
I am your sister: collected and unpublished writings of Audre Lorde, edited by Rudolph P. Byrd, Johnnetta Betsch Cole, Beverly Guy-Sheftall (PS3562 .O75 I3 2009) - Often quoted without credit, 'Your silence will not protect you,' 'Poetry is not a luxury,' and 'The master's tools will never dismantle the master's house,' Lorde's ideas deserve to be read in context.
Another Mother Tongue: gay words, gay worlds by Judy Grahn (HQ76.25 .U5 G73 1990) - Grahn examines mythology, finding surprises like the possible origin of the word 'bulldyke.'
Essential essays: culture, politics, and the art of poetry by Adrienne Rich (PS3535 .I233 A6 2018c) - The amazing 'Compulsory Heterosexuality and Lesbian Experience' is a must-read.
Odd Girls and Twilight Lovers : a history of lesbian life in twentieth-century America by Lillian Faderman (online and HQ75.6 .U5 F33 1992) - Shows the diversity of lesbian lives.
Serving in Silence, by Margarethe Cammermeyer with Chris Fisher (UB418 .G38 C36 1994) - Discharged for coming out, Cammermeyer eventually won reinstatement and full benefits.
Gay American History: lesbians and gay men in the U.S.A.: a documentary history by Jonathan Ned Katz (HQ76.3 .U5 K37 1992) - Fascinating original documents of pioneering lesbians, gay men and transgendered people.
And may I humbly offer two anthologies I edited:
Wanting Women: an anthology of erotic lesbian poetry ( PS595 .L46 W36 1990) - because it's not all about theory, after all!
Sister/Stranger: lesbians loving across the lines (HQ75.5 .S58 1993) - Stories and poems about loving across race, class, religion, ethnic group, size, ability, and age differences.
On DVD:
A Litany for Survival: the life and work of Audre Lorde, online and DVD-7392 - a portrait of the brilliant Black lesbian poet and activist, from her childhood to her battle with breast cancer.
Stonewall: the making of a gay and lesbian community, DVD-6072 - Many famous and lesser-known activists on gay and lesbian culture before and after the Stonewall riots.
Coming Out Under Fire: the history of gay men and women in World War II, by Allan Bérubé (video and book online, from the book D769.2 .B46 2010) - Documents the acceptance of gay soldiers in wartime and dishonorable discharge in peacetime.
The Celluloid Closet, (online and DVD-571, from the book by Vito Russo, PN1995.9 .H55 R8 1981) - Absorbing overview of LGBT representation on film, from silent films to the 1990s.
These titles come recommended by Angelina Spotts:
Stone Butch Blues: a novel, by Leslie Feinberg (PS3556 .E427 S7 1993) - Moving account of living as a butch lesbian, enduring bar raids and police abuse, 'passing' as a man to survive in the 1950s, and fighting to exist as a transgendered person..
Transgender Warriors: making history from Joan of Arc to RuPaul, by Leslie Feinberg (HQ77.9 .F45 1996) - Reclaiming history/herstory or maybe hirstory, this is on my to-read list.
Trans liberation: beyond pink or blue, by Leslie Feinberg (online) - A collection of inspiring speeches on transgender civil rights and their connection to the liberation of all people.
Gender Outlaw: on men, women and the rest of us, by Kate Bornstein (HQ77.9 .B67 1994) - All the blurbs for this book describe it as funny, honest, and eye-opening. I'm intrigued.
Gender Outlaws: the next generation, edited by Kate Bornstein and S. Bear Bergman (online and HQ77.9 .G39 2010) - Essays, comic art, commentary from trans-spectrum people.
Beyond Trans: does gender matter? by Heath Fogg Davis (HQ77.95 .U6 D39 2017) - Something I wonder at every baby shower. Questions our need for rigid gender categories.
Understanding asexuality, by Anthony F. Bogaert (online) - One meaning of the 'A' in LGBTQIA+.
Many more titles await on the shelves and online. Happy reading and viewing, and Happy National Coming Out Day!
By Jan Hardy, Cataloging Specialist