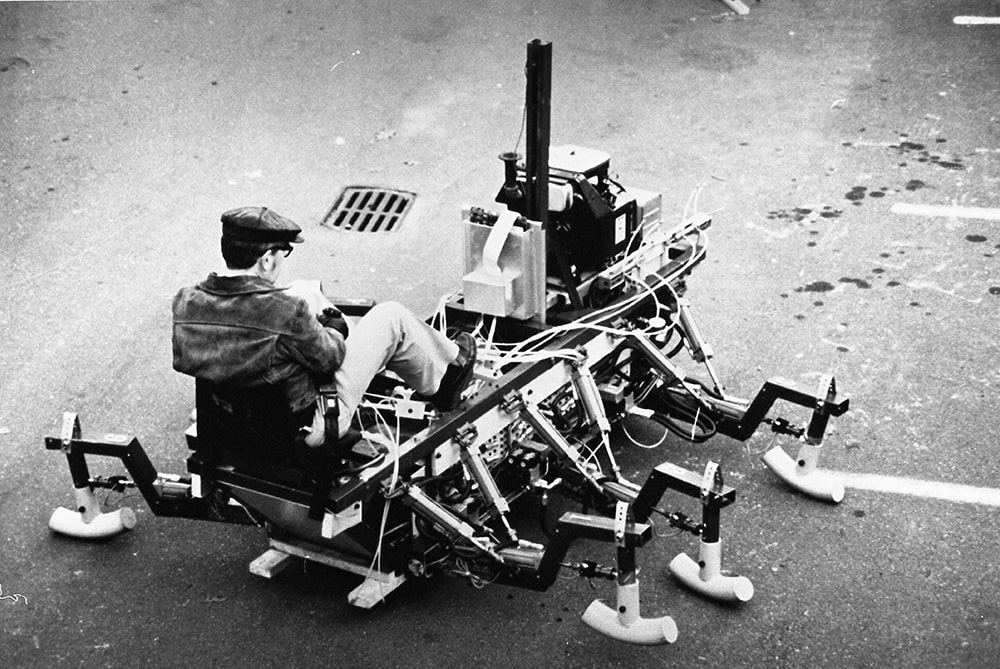 Overview
At Carnegie Mellon University, we believe that the story of robotics deserves to be told properly, and the time to recognize this discipline as one worthy of its own archive is long overdue. That's why CMU has launched The Robotics Project: a multi-phase, multi-year project to create a home for the past, present and future of robotics. We're working to create the pre-eminent archival, historical, and instructional resource on robotics as a scientific discipline, a field of practice, and a cultural force.
Our vision is to explore the development of a field that has remade the modern world, and to educate and inspire future generations. This requires attracting collections from the world's leading roboticists, establishing new models for archiving multi-modal technology collections, setting new standards for how archivists and curators approach their work, and ensuring that the record of early robotics is preserved.
Inspired by a robotics culture that meshes large-scale dreaming with hands-on engineering, the program is ambitious in scope, with the goal of achieving national recognition for the collection and our outreach activities within five years.
The Vision
We're telling this story in a way it has never been told before: in partnership with the faculty, researchers, students, alumni, and friends who pioneered robotics research at Carnegie Mellon University.
Working in consultation with leading archives and museums, including the Smithsonian and other partners, our goal is to rethink what is possible in our work to document the history of robotics. To that end, The Robotics Project will:
Acquire artifacts and materials that require specialized care and commit to long-term preservation and access.
Document testimonials of the people who created the robots, generating invaluable humanities and social science knowledge about scientific and technological developments.
Build hands-on experiential learning opportunities and an online portal for university and general audiences as well as K-12 students and teachers.
Create spaces for the public to interact with artifacts and narratives from robotics through exhibitions and educational programming.
Building from the contributions of CMU faculty and researchers, the scope of the project will expand to include many voices that have interacted with the CMU robotics sphere - students, alumni, researchers, and partners in government and the private sector. Our intent is to capture a wide breadth of stories about the research, impact, and experiences of the robotics community across the nation and around the world, creating the global destination for scholars and students thinking about the history of robotics.
Events & Exhibitions
Looking Back to Move Forward / A Re:collection of Robotics at Carnegie Mellon
The debut exhibition in the new first-floor gallery of Hunt Library provided a window into the ongoing work of The Robotics Project, an interdisciplinary approach to preserving the legacy of robotics through a partnership between the University Libraries and the School of Computer Science. Visit the Exhibit Page
The Robotics Project: Building the Robot Archive
An interactive virtual exhibit, The Robotics Project: Building the Robot Archive documents the incredible legacy of robotics at Carnegie Mellon University while providing viewers with an informative and behind-the-scenes look into The Robotics Project team's groundbreaking work to develop the new methods of archival practice and methodology needed to preserve this rich history and influence its future. Visit the Digital Exhibit
Record of Robotics at CMU Part I: A Conversation with Red Whittaker and Chris Urmson
On August 4, 2020, the School of Computer Science and University Libraries explored the history of robotics and autonomous vehicles through the eyes of Founders University Research Professor Red Whittaker and his former student, Chris Urmson, co-founder and CEO of Aurora. Also joining the conversation to share some exciting updates about the University Archives' work in preserving the story of robotics was Katherine Barbera, Archivist and Oral Historian at CMU. Kevin Dowling, also a former student of Red's, joined as special guest moderator. Watch the Recording
Record of Robotics at CMU Part II: A Live Interview with Manuela Veloso
On October 20, 2020, pioneering roboticist Manuela Veloso, Head of JP Morgan Chase AI Research and the Herbert A. Simon University Professor of Computer Science was joined by her former students Sonia Chernova, Joydeep Biswas, and Peter Stone to share their accounts and impactful anecdotes as students and witnesses to the evolution of the global impact of Robosoccer and CoBot. This exciting and exclusive live interview featured a conversation facilitated by Archivist & Oral Historian Katherine Barbera. Watch the Recording
Record of Robotics III: Looking Back to Move Forward
The University Libraries and the School of Computer Science joined forces for an event March 15, 2022. "Record of Robotics III: Looking Back to Move Forward" featured a virtual tour of the Robotics Project exhibition, "Looking Back to Move Forward / A Re:collection of Robotics at Carnegie Mellon" by Martial Hebert, Dean and Professor, School of Computer Science and Matthew Johnson-Roberson, Director of the Robotics Institute. Following the virtual tour, Archivist and Oral Historian Katherine Barbera led a live Q&A featuring questions from the audience. Watch the Recording
The Robot Archive
As part of The Robotics Project, our team is building a Robot Archive to preserve CMU's robotics legacy and contribute to a broader understanding of the people and technology that created the field.
Led by a team of expert archivists, this first-of-its-kind Robot Archive is housed in the Carnegie Mellon University Archives and contains countless artifacts, including more than 100 examples of robots, prototypes, and parts as well as endless amounts of material like videos, images, code, proposals, emails, and websites. Some of these may seem unremarkable or trivial at first glance but they contain necessary information and give valuable insight into the community of people who work in the field.
 
What We Collect
Robots such as hardware from prototypes, decommissioned models, parts, accessories, modules, and the tools used to make them.
Research such as research proposals, software, code, data, lab notebooks, and technical documentation.
Communications such as reports, policies and procedures, meeting minutes, correspondence, websites, emails, and course/instructional material.
Promotional items such as announcements, websites, newsletters, event and conference programs, conference proceedings, lectures, presentations, and speeches.
Multimedia such as audio and video recordings, photographs, scrapbooks, interviews, and oral histories.
Donate
It is through the remarkable generosity of our supporters that we are able to embark on this incredible journey to build The Robotics Project. Please consider supporting our work by making a donation to the Robot Archive Fund, dedicated to supporting the needs of this project.
For more information, or to inquire about specific giving opportunities, please contact Morgan Walbert, Associate Director of Development, at mwalbert@andrew.cmu.edu.
Contact
For more information about The Robotics Project or the Robot Archive contact Katherine Barbera, Archivist and Oral Historian and Lead Archivist for The Robotics Project, at kbarbera@andrew.cmu.edu.