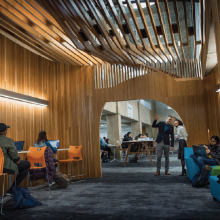 The Libraries' workshops – which are offered by the Libraries each semester on a variety of topics – are designed to help attendees learn a new skill, deepen their understanding of a specific topic, or gain exposure to an unfamiliar technology, tool, or technique.

Explore the Workshops Calendar
Service Details
All workshops are available at no charge and are open to Carnegie Mellon University students, faculty, staff, alumni and friends. Seating is limited and registration is required.
If you're not able to attend a specific workshop, but would like to learn more about the topic, please feel welcome to contact us. Librarians and subject specialists are also available to schedule additional workshops for classes, or facilitate one on one meetings.
For questions, please contact the Outreach for Library Teaching and Learning group at lib-olibtel@lists.andrew.cmu.edu.