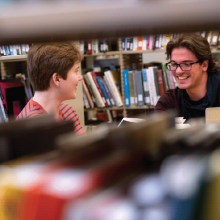 The University Libraries provides evidence synthesis support to CMU students, researchers and staff. Evidence synthesis includes methods such as systematic reviews and meta-analyses, scoping reviews, systematic mapping reviews, rapid reviews and other systematic or structured approaches to literature reviews.
Getting Started
How can the Libraries help?
Librarians trained in evidence synthesis methods can provide support in many stages of the review process. For example, we can:
Provide guidance on which methodology best suits your research goals
Recommend databases and other information sources for searching
Design and implement comprehensive and reproducible database-specific search strategies 
Provide guidance and training on software for article screening including Covidence, Rayyan and SysRev
Assist in the use of citation management software for deduplication of records
Offer best practices for the documentation and reporting of searches
Offer guidance on performing comprehensive literature reviews for IACUC protocols, grant proposals, or evidence-based guidelines
Depending on the level of involvement, librarians can serve in either a consulting capacity, or can be a collaborator and co-author on your published review.
As a consultant on your review, we can provide:
Background information on evidence synthesis methods
Guidance on databases and information sources to search (including gray literature)
Guidance on designing comprehensive, reproducible searches
Recommendations about citation management and screening software
Peer-review of your search strategy
Guidance on documentation and reporting
As a co-author, we can:
Assist with question refinement and decisions about methodological approach
Select databases and gray literature sources for searching
Design, run and manage database and gray literature searches
Assist with deduplication across sources and preparation of the screening project
Advise and train the research team on screening methods and software
Provide reproducible documentation of the searches for publication
Write the search and retrieval portion of the methods section of the paper
Collaborations
CEO Compensation and Firm Financial Performance
Sarah Young and Ryan Splenda are collaborating with Prof. Denise Rousseau (Heinz/Tepper) on a systematic review that examines the question: "Does executive compensation predict publicly traded firms' financial performance or inaccurate financial reporting?" This review will serve as a proof-of-concept for conducting high quality systematic reviews in business and management. This work is being done as part of the recently formed Business & Management Coordinating Group of The Campbell Collaboration, an "international social science research network that produces high quality, open and policy-relevant evidence syntheses."
Macrophage Polarization in Nanoparticle-based Cancer Immunotherapy
Sarah Young and Melanie Gainey are collaborating with Dr. Elizabeth Wayne (Biomedical Engineering/Chemical Engineering) and a team of undergraduate and graduate students on a scoping review that addresses the following question: What is the relationship between nanoparticles used for cancer theranostics and macrophage polarization in the tumor microenvironment? As IMUR Faculty Fellows, they are also developing a course that explores using evidence synthesis as a model for undergraduate research.
Primary Contact(s)
Manage Information & Data
Work with our specialists to evaluate, select, and implement the tools to organize your data and keep your project on track.