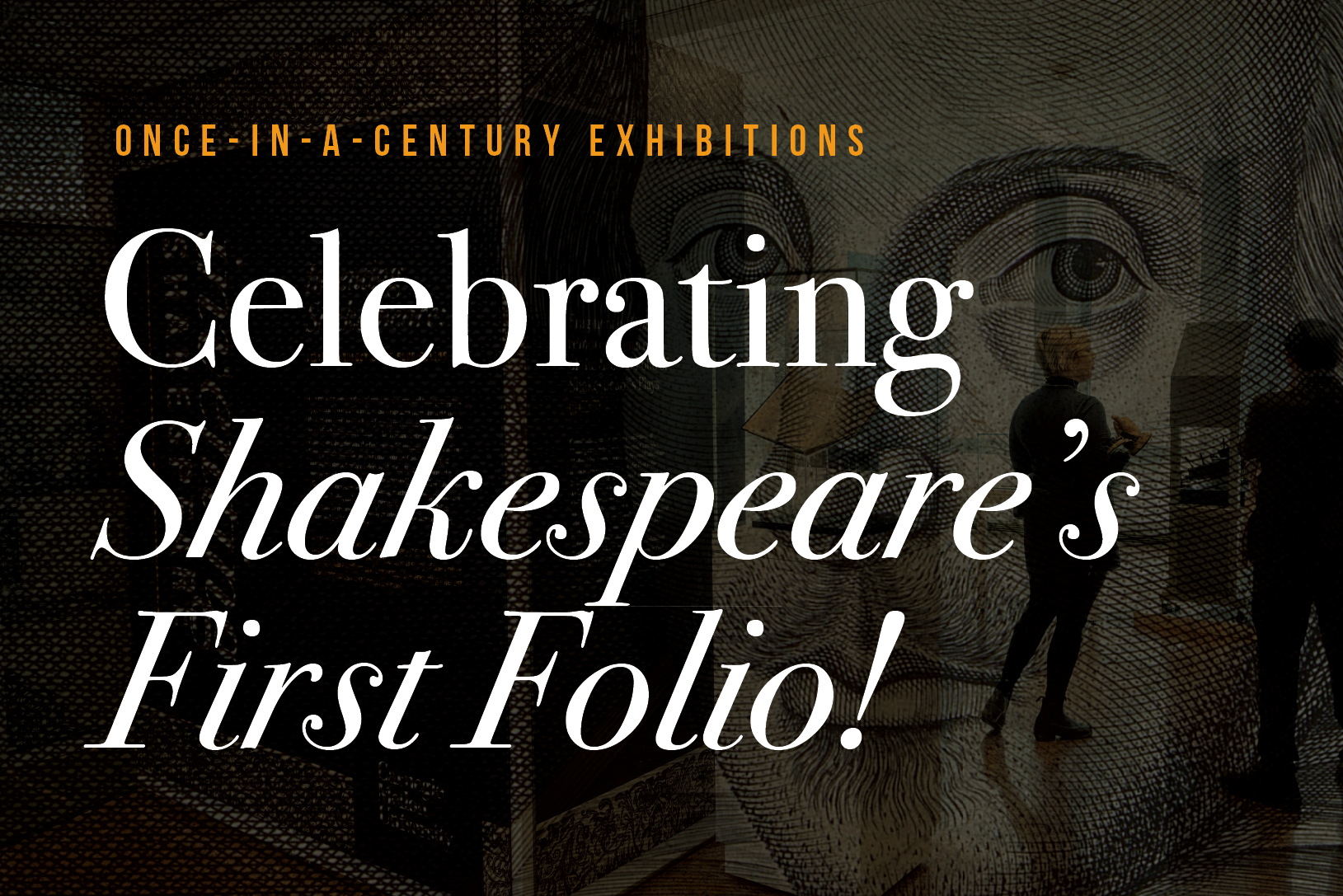 This year, the University Libraries is mounting two exhibitions to mark the quatercentenary (1623-2023) of Shakespeare's First Folio, a copy of which is held in the Libraries' Special Collections. Organized in collaboration with Pittsburgh's Frick Art Museum, these exhibits are offered in two venues. One exhibit, Inventing Shakespeare: Text, Technology, and the Four Folios, is on display in Carnegie Mellon University's Hunt Library; and the other, From Stage to Page: 400 Years of Shakespeare in Print, is mounted in the Frick's Jacobean Gallery.
Together, these exhibits trace the history and influence of the Shakespeare folios from the seventeenth century to the present. Both exhibits will be free and open to the public.
---
| | |
| --- | --- |
| Duration | October 2, 2023 14:04 - October 2, 2023 14:04 |
Exhibits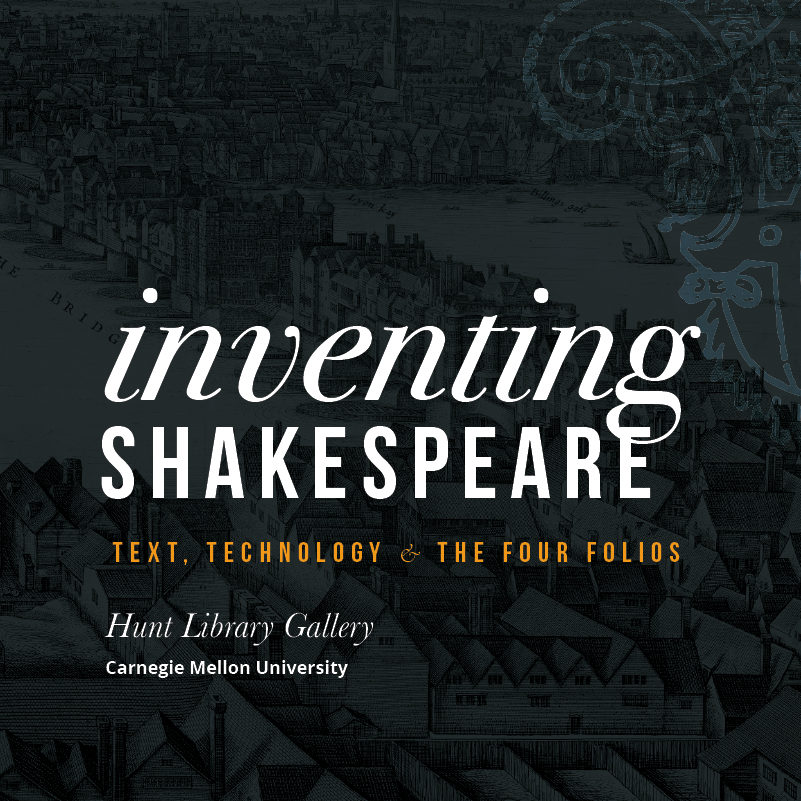 Inventing Shakespeare: Text, Technology, and the Four Folios
March 6, 2023 – May 16, 2024
Hunt Library Gallery

This exhibit explores the technologies and computational tools used to study the four folios since 1950. Rightly called "the most thoroughly studied early modern book," the First Folio has given rise to a range of scholarly tools, techniques, and technologies. The exhibit's focus on the technology of literary research speaks to CMU's culture of innovation, collaboration, and technological inventiveness.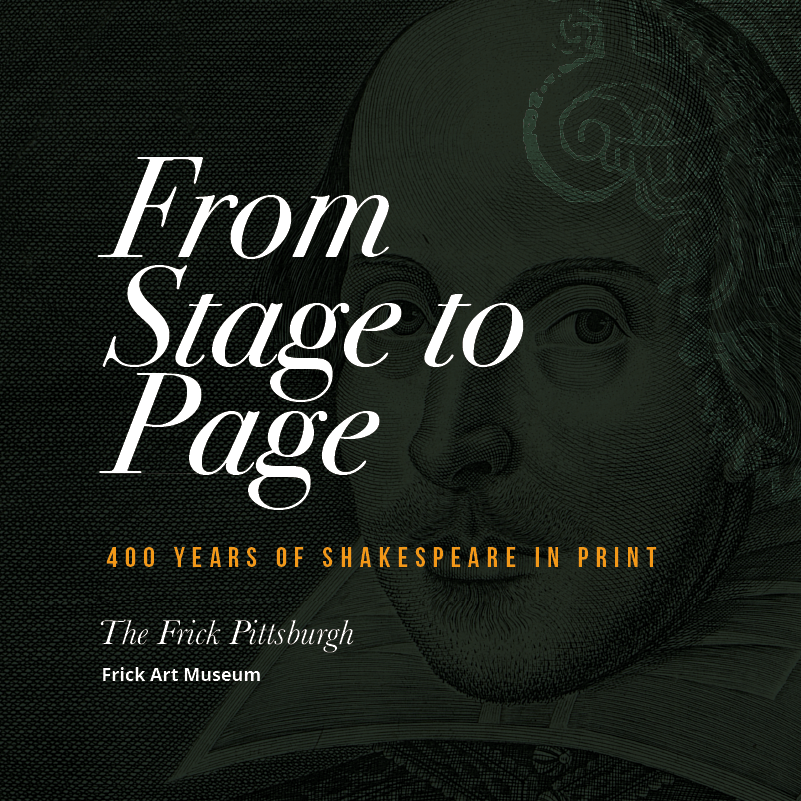 From Stage to Page: 400 Years of Shakespeare in Print
April 1, 2023 – March 10, 2024
Frick Art Museum

Printed in 1623, Mr. William Shakespeares Comedies, Histories, & Tragedies was the earliest comprehensive gathering of Shakespeare's plays in print. This exhibit tells the story of the First Folio's origins in the bookstalls of seventeenth-century London and considers the histories of three later, lesser-known folios published in 1632, 1663, and 1685. The exhibition presents a rare opportunity to see all four folios in one room, offering an extraordinary look at Shakespeare's enduring legacy.
---
Programs and Special Events
Shakespeare Stroll
Wednesday, October 4 | 6:30 – 8:30 p.m.
The Frick Pittsburgh, Sitewide
Experience a special evening that could only happen at the Frick! Discover famous Shakespearean characters and live music as you stroll our beautiful grounds, then enjoy a light reception and join the performers Pittsburgh Shakespeare in the Park for an informal talk about the First Folio and how actors use it.
Advance registration required; $35 members; $45 non-members and guests; $15 students.
Shakespeare on Screen, 1990s style
Thursdays May 25, June 22, July 27, August 24, September 28, October 26, 2023 | 7:00 p.m.
The Frick Art Museum Auditorium
The 1990s/early 2000s movies that brought adaptations of Shakespeare into mainstream culture are a genre all their own – and many of them are just plain fun. Join us for an exploration of some of the best in our monthly series – we'll bring the popcorn!
$15 non-members and guests; $10 for members; $5 for students.
Past Events
Let's Talk About Shakespeare
Fridays April 21, May 19, June 16, July 21, August 18, September 15, 2023 | 2:00 – 2:30 p.m.
Meet in The Frick Art Museum Rotunda
Why are we still talking about Shakespeare? Every third Friday of the month, pop into The Frick Art Museum for a discussion about Shakespeare's enduring appeal and how it relates to our lives and culture today.
Free; No advance reservation required.
Shakespeare's Symbols: The Frick's Collection through the Bard's Eyes
April 28 and September 22, 2023 | 5:30 – 6:45 p.m.
The Frick Art Museum
Power and corruption, love and betrayal, revenge and loyalty all mark some of the enduring themes that characterize William Shakespeare's plays. Join the Frick staff for a light reception followed by an exploration of the intersections of the collection of The Frick Art Museum and Shakespeare's folios.
Advance registration required; $15 for non-members and guests, $10 for members, $5 for students.
Pittsburgh Shakespeare in the Parks at The Frick presents Antony and Cleopatra
Saturday, September 23 and Sunday, September 24 | 2:00 p.m.
North Lawn
The rarely-performed tale of Antony and Cleopatra comes alive in a fierce all-female production with music, dance, and soul-lifting fun. Celebrating Cleopatra, one of Shakespeare's most complex female characters, and her tragic grandeur.
Free and open to all.
Silent Shakespeare at the Frick
Sunday, October 1 | 2:00 p.m.
Frick Art Museum Auditorium
Step into the world of turn-of-the-20th-century Shakespeare silent film shorts with live accompaniment by music historian Tom Roberts and commentary by Pittsburgh Silent Film Society director Chad Hunter. Runtime: 1 hour.
$15 members; $20 non-members and guests, $5 students.