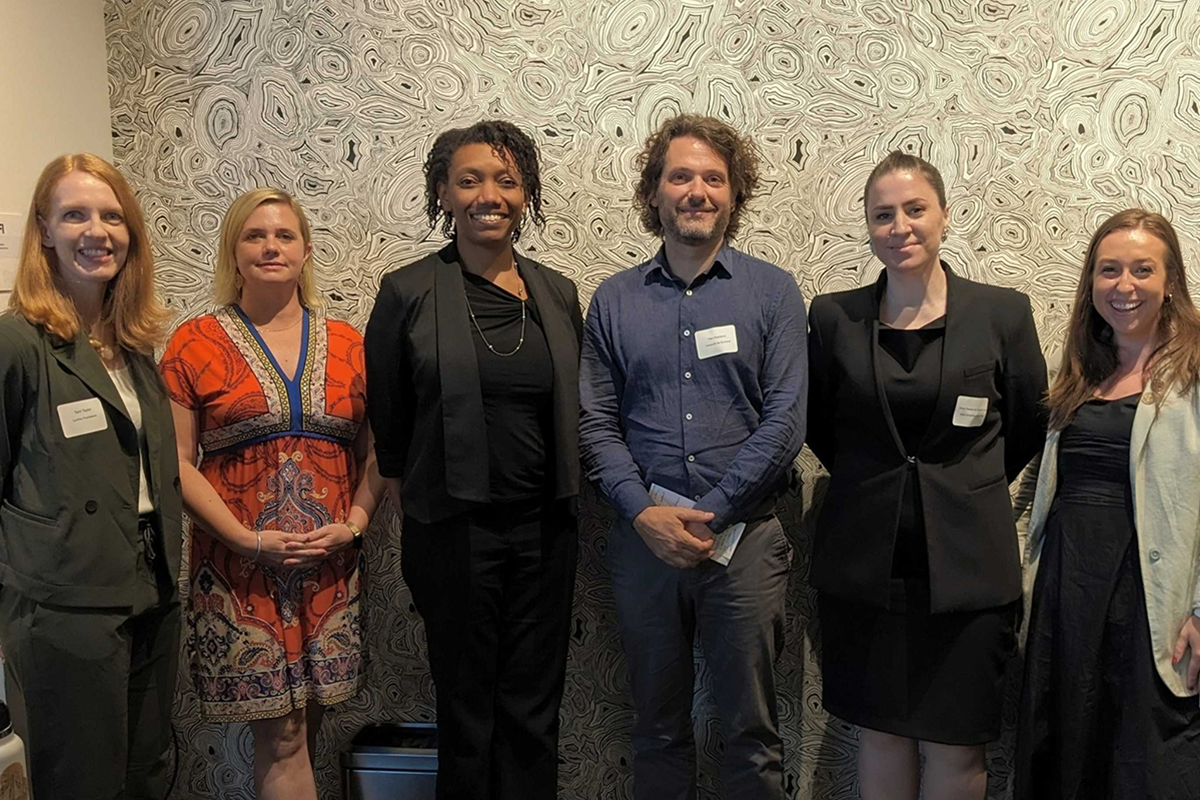 Hiniker, Portlock, and other panelists for an Organisation for Economic Co-operation and Development (OECD)-Lumina Foundation side-event during the High-level Political Forum in New York City.
At Carnegie Mellon, the Sustainability Initiative is committed to amplifying sustainability efforts across education, research, and practices. Since finding a permanent home in the University Libraries, it has grown as a convener, bringing students, researchers, and other contributors together. Now, Director Alexandra Hiniker is finding ways to share her technical expertise and experience with an even broader group across the region through the DISCOVER network.
DISCOVER (Defining Intersectional Sustainability to Collaboratively Optimize for a Vibrant and Equitable Region) is a group of nonprofits and government agencies working in Southwestern Pennsylvania to localize the United Nations' 17 Sustainable Development Goals, also known as the Global Goals. Spearheaded by Sustainable Pittsburgh in partnership with a number of regional conveners, the network builds beyond data and measurement, creating a shared, inclusive framework for measuring progress, coordinating communications, and driving interventions toward regional sustainability outcomes and policies.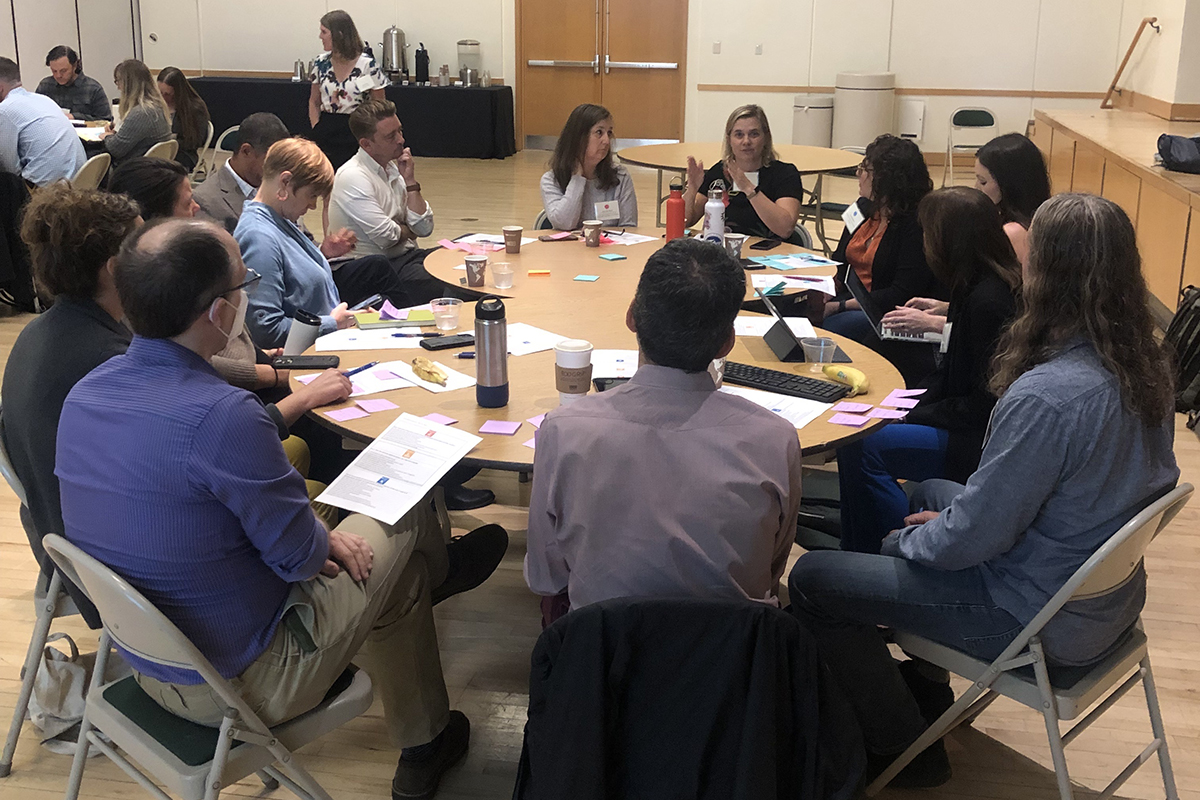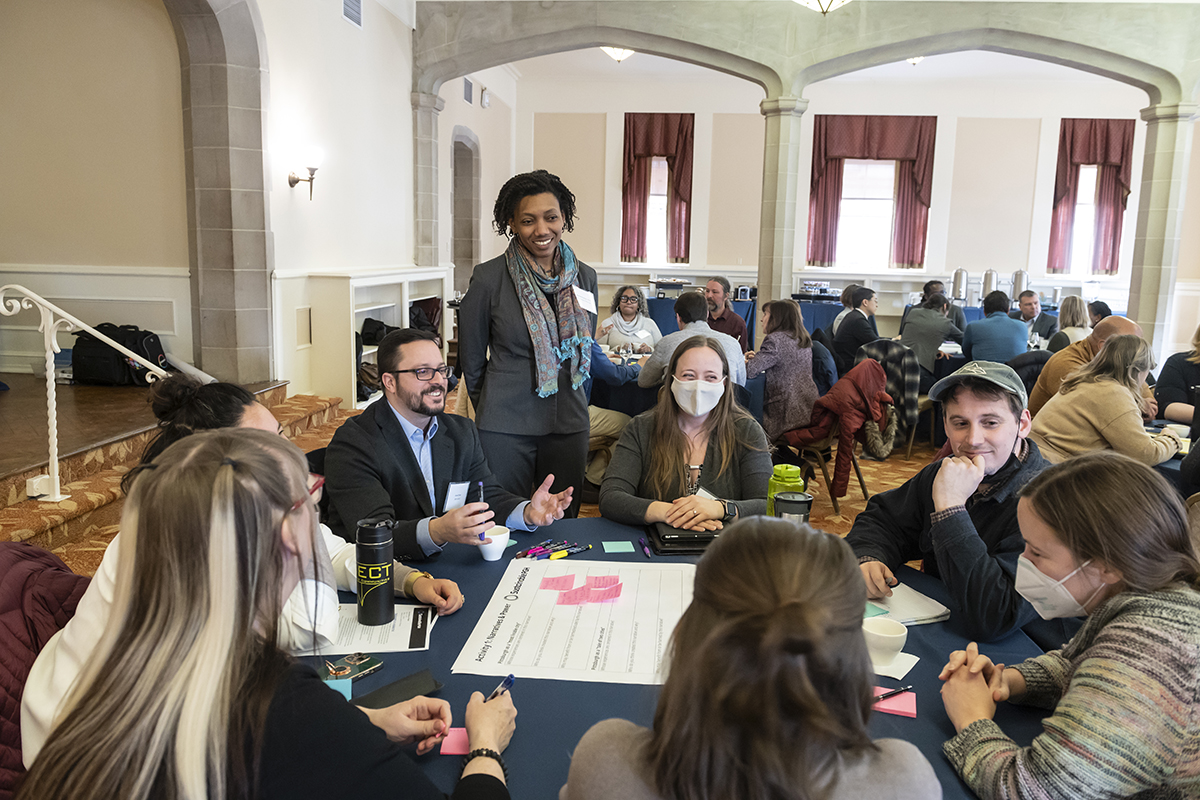 Both a measurement project and a network of organizations, DISCOVER's goals include embedding equity into the work, inspiring cross-sector conversations, collecting key data, and helping to inform policy decisions. DISCOVER also aims to create a model process for regionalizing the Global Goals, which has not yet been done in the United States.
"The Global Goals are agreed upon by countries, but everyone has a role to play, including cities, universities, nonprofits, and other organizations — and no single player can do it all," Hiniker said. "With DISCOVER, we're finding a balance between what universities can contribute, what an organization like Sustainable Pittsburgh can do, and what other members can accomplish as well. We each bring our strengths to the table and work together to make real change."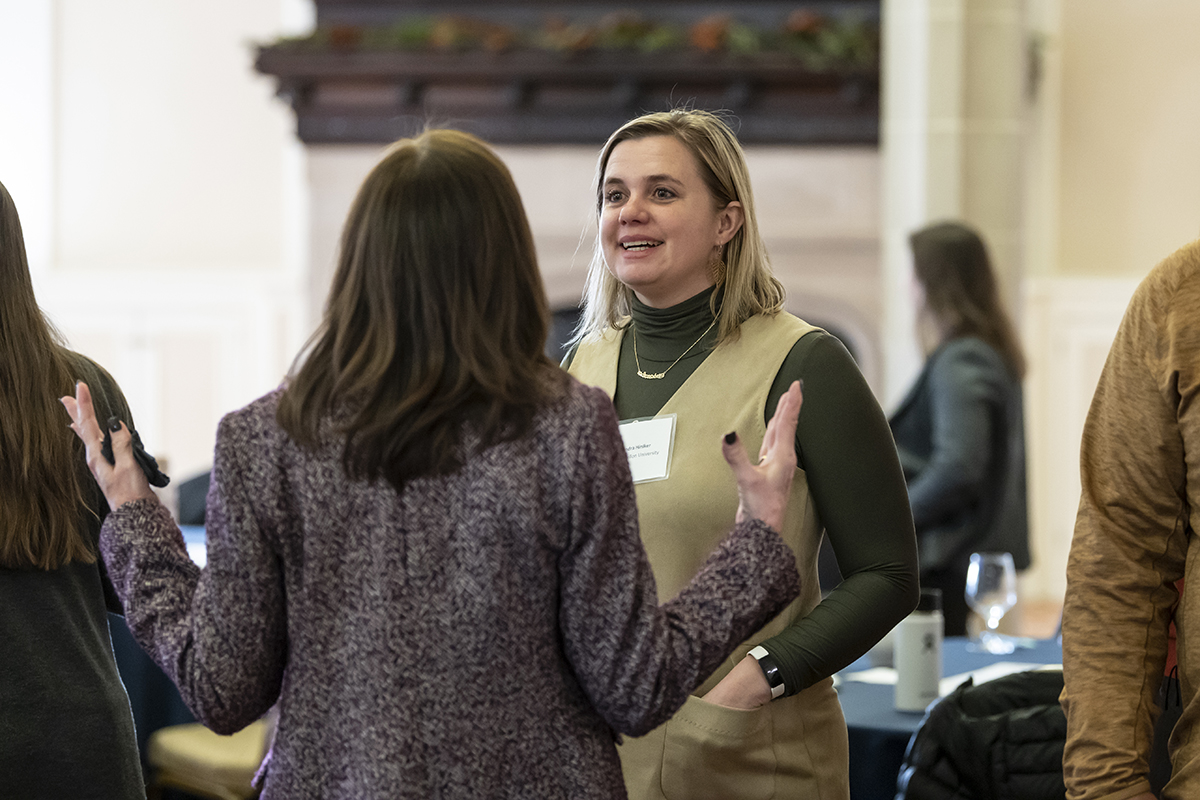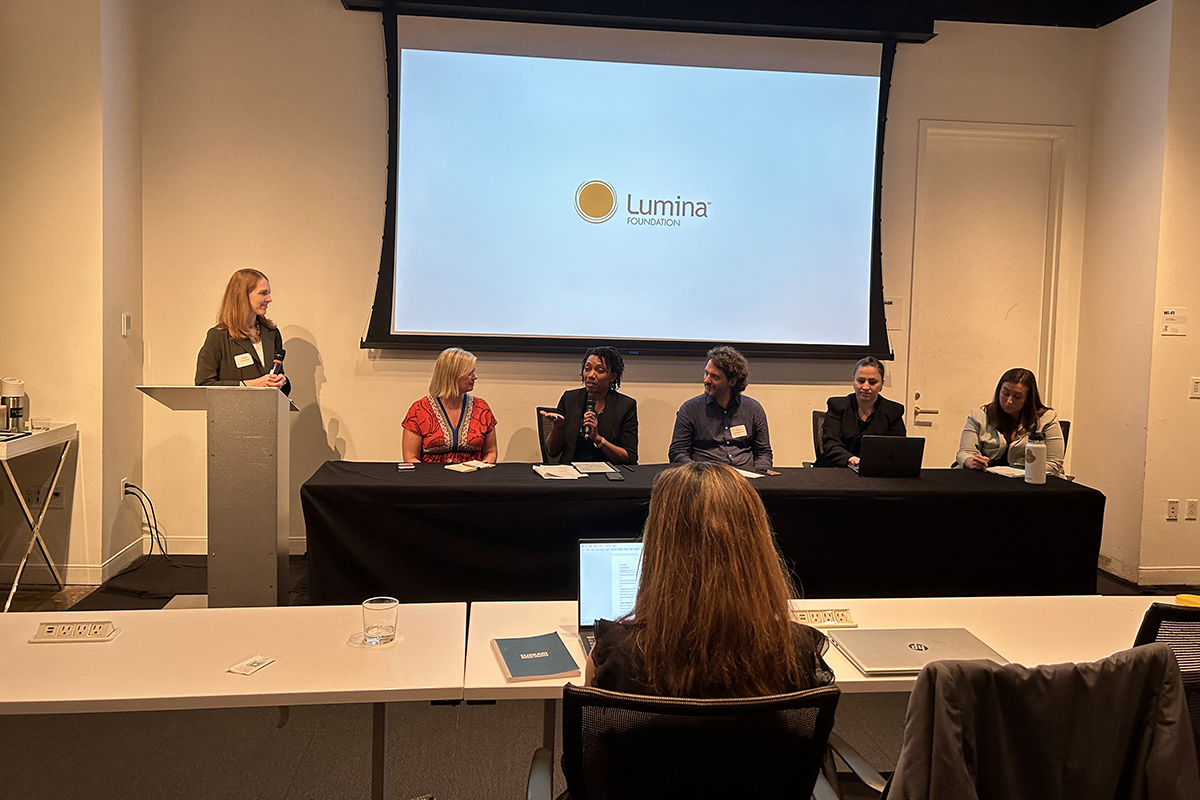 "DISCOVER is a way for changemakers to come together, collaboratively envision where we want to go as a region, and understand how our collective work is — or isn't yet — getting us there, so we can maximize effectiveness and alignment," added Joylette Portlock, Ph.D., executive director of Sustainable Pittsburgh.
Hiniker has 15 years of experience working in advocacy on the local, national, and international level. In her career, she has led humanitarian disarmament initiatives in Cambodia with the United Nations, and in Laos and Lebanon with the Cluster Munition Coalition. She implemented pandemic preparedness projects in Africa, Asia and Eastern Europe. She also led New York City's sustainability program at the Mayor's Office for International Affairs, becoming an expert on the Global Goals — an expertise she has volunteered to the DISCOVER network.
Beyond the 17 Global Goals, there are 169 targets — smaller, more actionable pieces of the blueprint designed to help achieve a more sustainable future for all. Hiniker worked to simplify the language used to explain the goals and targets for DISCOVER's steering committee, making the material more accessible and allowing the group to more effectively apply them to regional needs.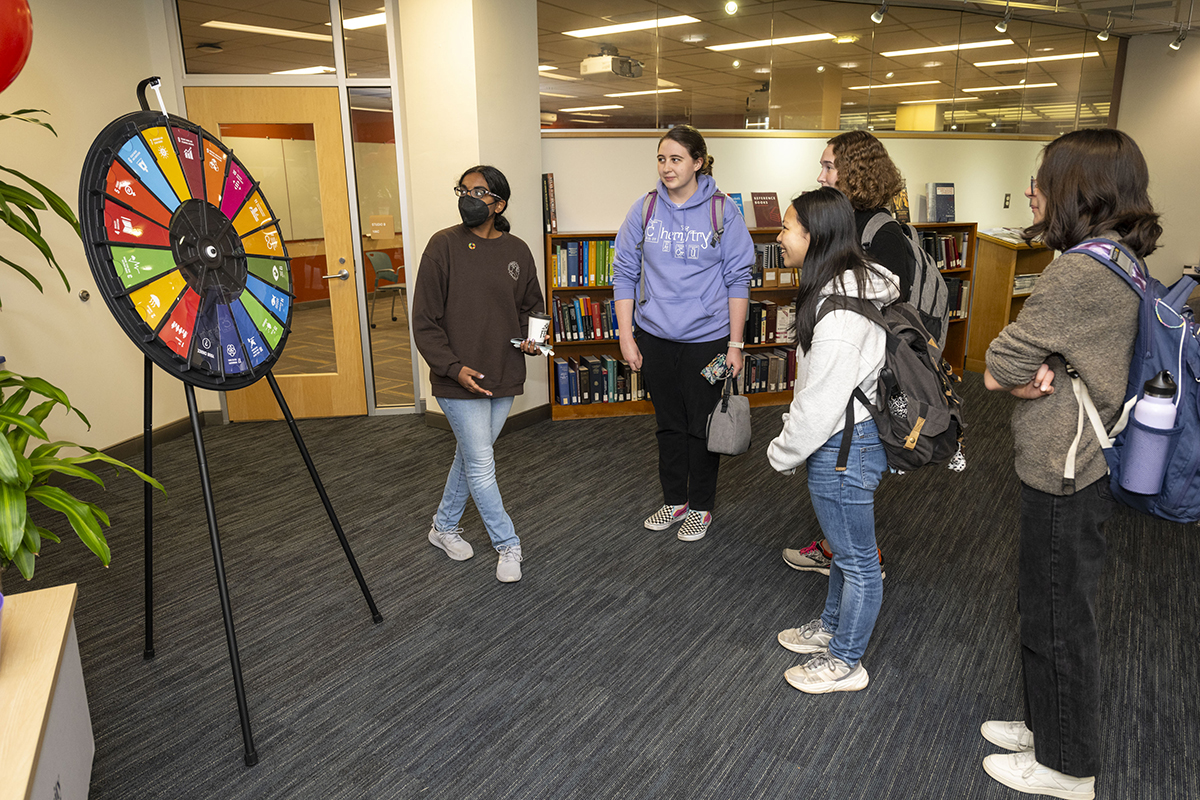 "Alex helped guide our conversations in a way that saved us hours and hours," said Katie Grimm, a consultant with Sustainable Pittsburgh. "She offered a valuable wider perspective on the intentions and impact of what we're talking about, ensuring the folks around the table could have a productive conversation about these complex ideas."
In addition to the steering committee, DISCOVER has convened four cross-sector working groups focusing on environment, equity, health, and infrastructure. Each group is assigned three to four Global Goals to address, and they work to establish regional targets and data points. In partnership with the Western Pennsylvania Regional Data Center, they help coordinate data information. The working groups then start the process of finding individual stories and building shared narratives to foster connections and create more systemic thinking across the region.
A key part of this work is to connect the working groups with researchers who can contribute data and benchmarks, and Hiniker's connections elevate this objective as well. At CMU, she works with students across disciplines and education levels, including her team of Sustainability Initiative interns and students enrolled in her courses. These students often seek opportunities to make a real-world impact through their studies, and Hiniker can provide them with partners who have specific research needs.
"It's so useful to be able to point students toward a curated list of what's most beneficial in the region, to help them understand what community engagement means and what organizations really need," Hiniker explained.
She is working to develop additional avenues for student involvement as well. This coming summer, the Sustainability Initiative will support two full-time undergraduate research fellows to work with Sustainable Pittsburgh and the DISCOVER network. Together with the Undergraduate Research Office, Hiniker has created the two new positions to work directly with organizations and keep moving sustainability efforts forward.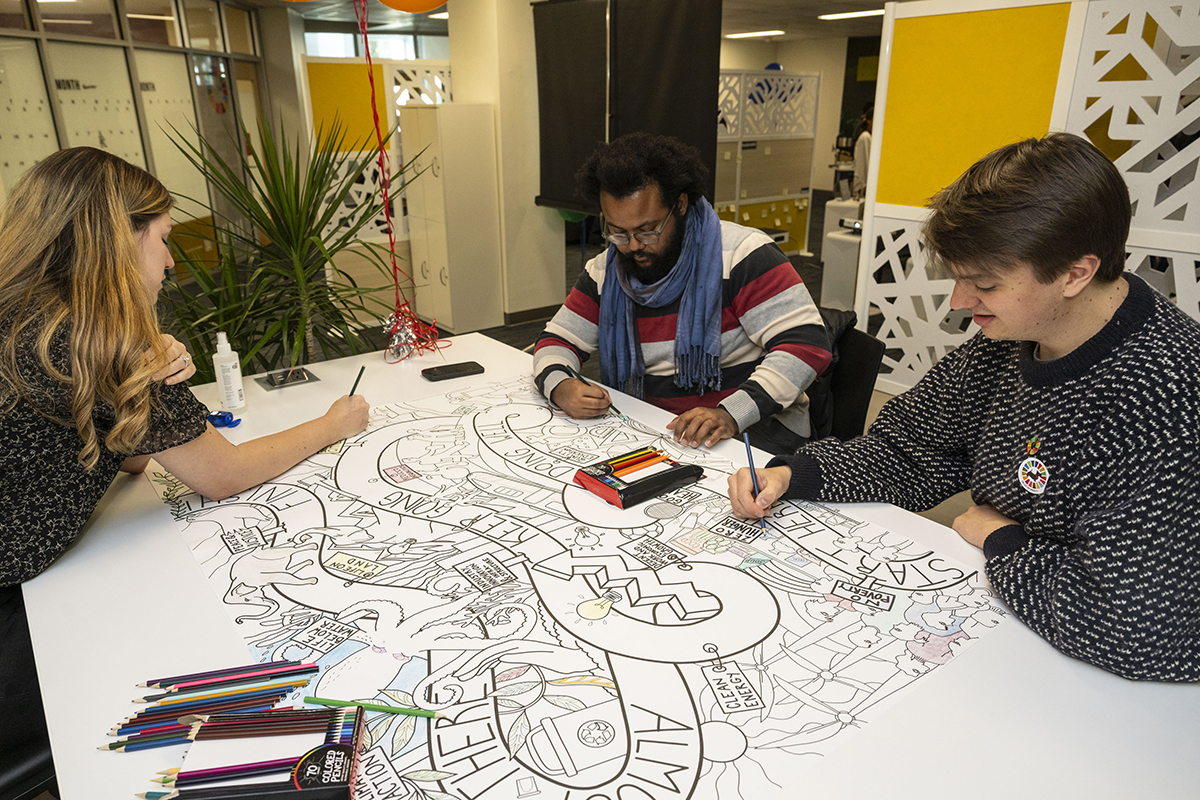 International partners are taking note of this regional approach. Earlier this year, Hiniker and Portlock traveled to New York City to present DISCOVER's work at an Organisation for Economic Co-operation and Development (OECD)-Lumina Foundation side-event during the High-level Political Forum — an event mobilizing an international network of experts and policymakers to discuss opportunities and challenges to achieve the Global Goals.
The Sustainability Initiative, along with the Libraries, continue to collaborate with DISCOVER in other ways, offering additional expertise, resources, and space. In September, Hiniker hosted a meeting for the health and infrastructure working groups. On November 30, the Libraries will host another meeting, this one for the full network.
"CMU's role to uplift the work being done by DISCOVER is critical to our mission — we couldn't succeed in our effort to fight fragmentation without Alex and the Sustainability Initiative," Grimm said. "Alex has been a trusted advisor and subject matter expert, and has helped elevate the network and given the initiative unique advantages and credibility."
---
by Sarah Bender, Communications Coordinator