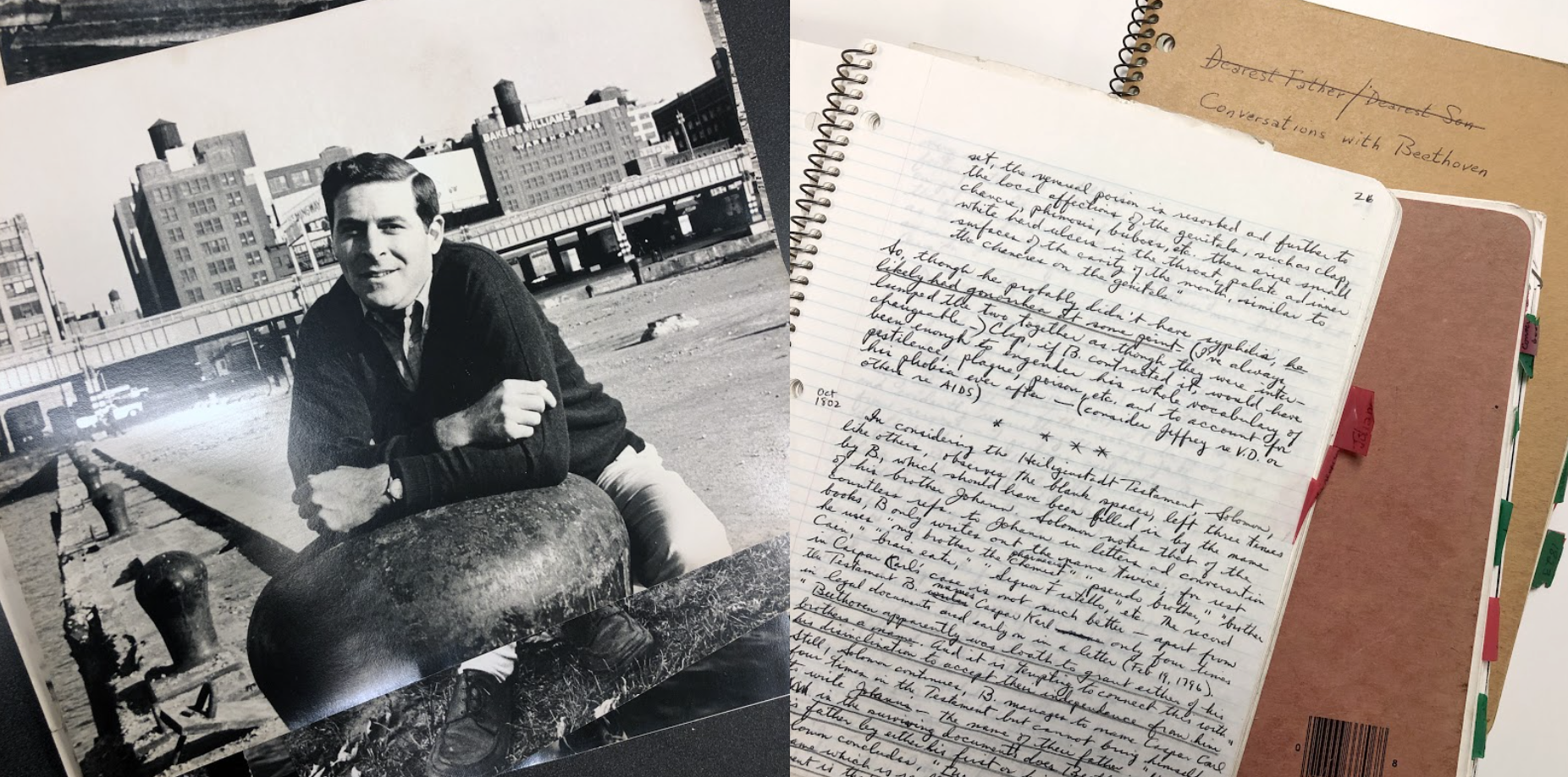 The Carnegie Mellon University Archives is excited to announce the acquisition of a new collection: the papers of author, playwright, and College of Fine Arts alumnus (1949) Sanford Friedman. The collection includes 14 boxes of handwritten manuscripts, annotated drafts, research notebooks, press clippings, photographs, dream journals, and decades of correspondence.
Friedman was born in New York City in 1928. After graduating from the Horace Mann School in 1945, he enrolled at Carnegie Institute of Technology, now Carnegie Mellon University. During his time at CMU, Friedman studied theater and acted in several productions, including "The Trojan Women" (1945), "Saint Joan" (1946), "The Three Sisters" (1947), and "Taming of the Shrew" (1948). After graduating in 1949, the same year as Andy Warhol and Phillip Pearlstein, he served in the U.S. Army for two years as a military policeman in Korea, where he earned a Bronze Star.
For many years Friedman wrote and produced theater, including Arnold Perl's play "Tevya and His Daughters" (1957), which was the inspiration for "Fiddler on the Roof" (1964). Eventually, he turned to fiction and published four books before his death in 2010, many featuring LGBT themes. His final novel, "Conversations with Beethoven", was published posthumously in 2014 by the New York Review of Books (NYRB). Later in life, Friedman taught writing at Juilliard and SAGE (Services and Advocacy for GLBT Elders).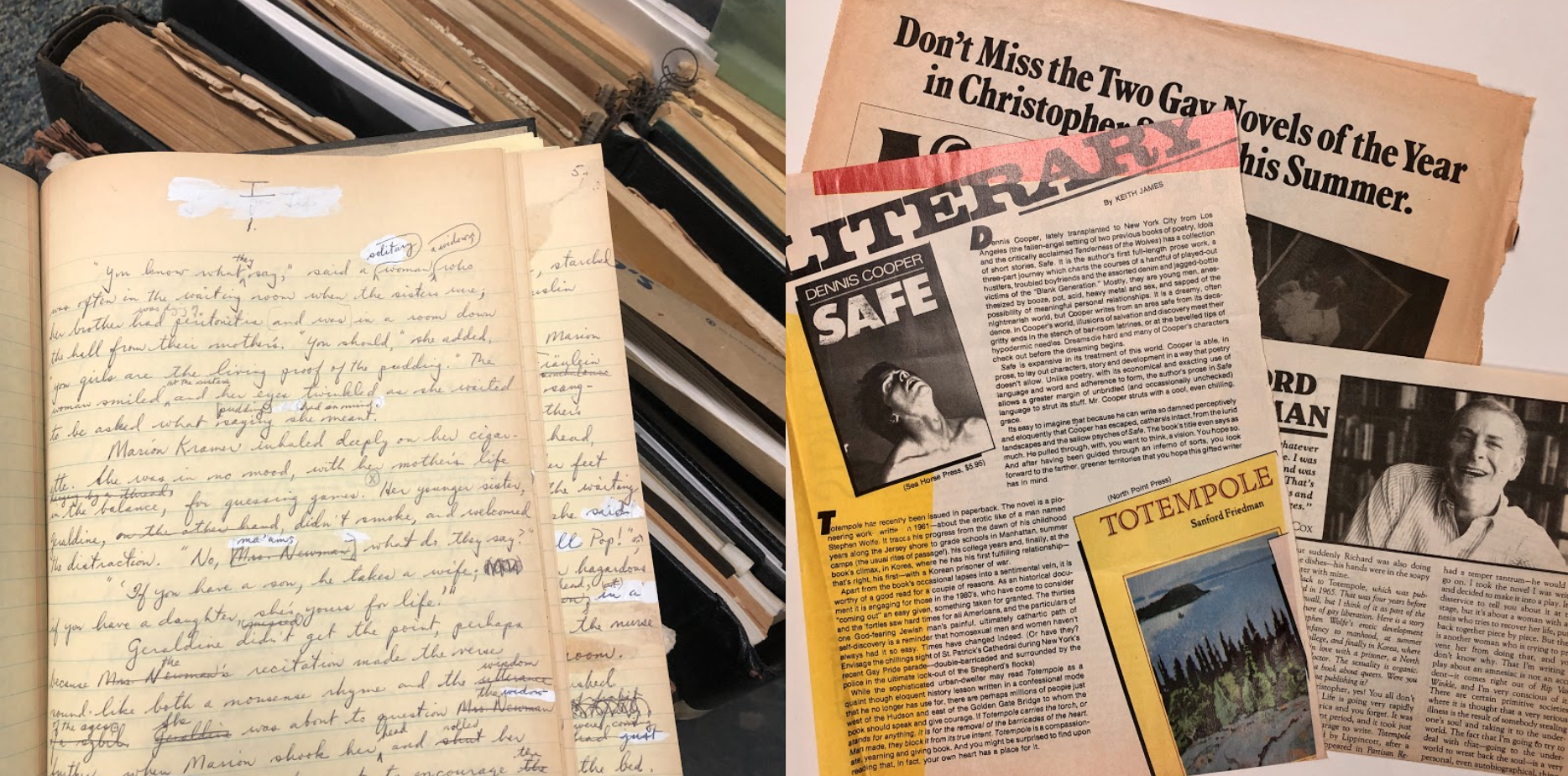 "Totempole," perhaps Friedman's most well-known novel, is a coming-of-age story about a young Jewish boy, Stephen Wolfe, who struggles to embrace his homosexuality. Stephen's life shares many similarities with Friedman's own life. Both were born in New York City, studied theater in college, and served in the U.S. Army with assignments in Korea. Friedman also loosely bases the Midwestern university that Stephen attends on the Carnegie Mellon campus, and characters attend a masquerade ball called the Beaux-Arts Ball, a real ball that took place at CMU annually between 1911 and 1990.
Author Peter Cameron, who wrote the afterward for the 2014 NYRB edition of "Totempole", described the novel as "an unusual gay novel: It isn't about life in the closet, and it isn't about coming out. It's about the space in between those two stages of gay life, a complex and murky area that has not often been written about: coming out to oneself."
Friedman's papers join the University Archives collection of papers by notable CFA alumni such as Susan Willis (CFA '47), William H Putch (CFA '49), and Sada Thompson (CFA '49). In the coming months, the University Archives aims to process Friedman's papers to make them more accessible for researchers.
The University Archives will be sharing a small selection of Friedman's incredible collection next Wednesday, October 26th from 11:30am - 1:00pm as part of the Out at CMU: An Archiving Project. The event will be held in the Wean Commons at the University Center. Stop by & celebrate LGBTQ+ History Month with the Center, University Archives, and PRISM.
Feature image: Left: Photograph of Sanford Friedman. Right: early handwritten draft of "Conversations with Beethoven."