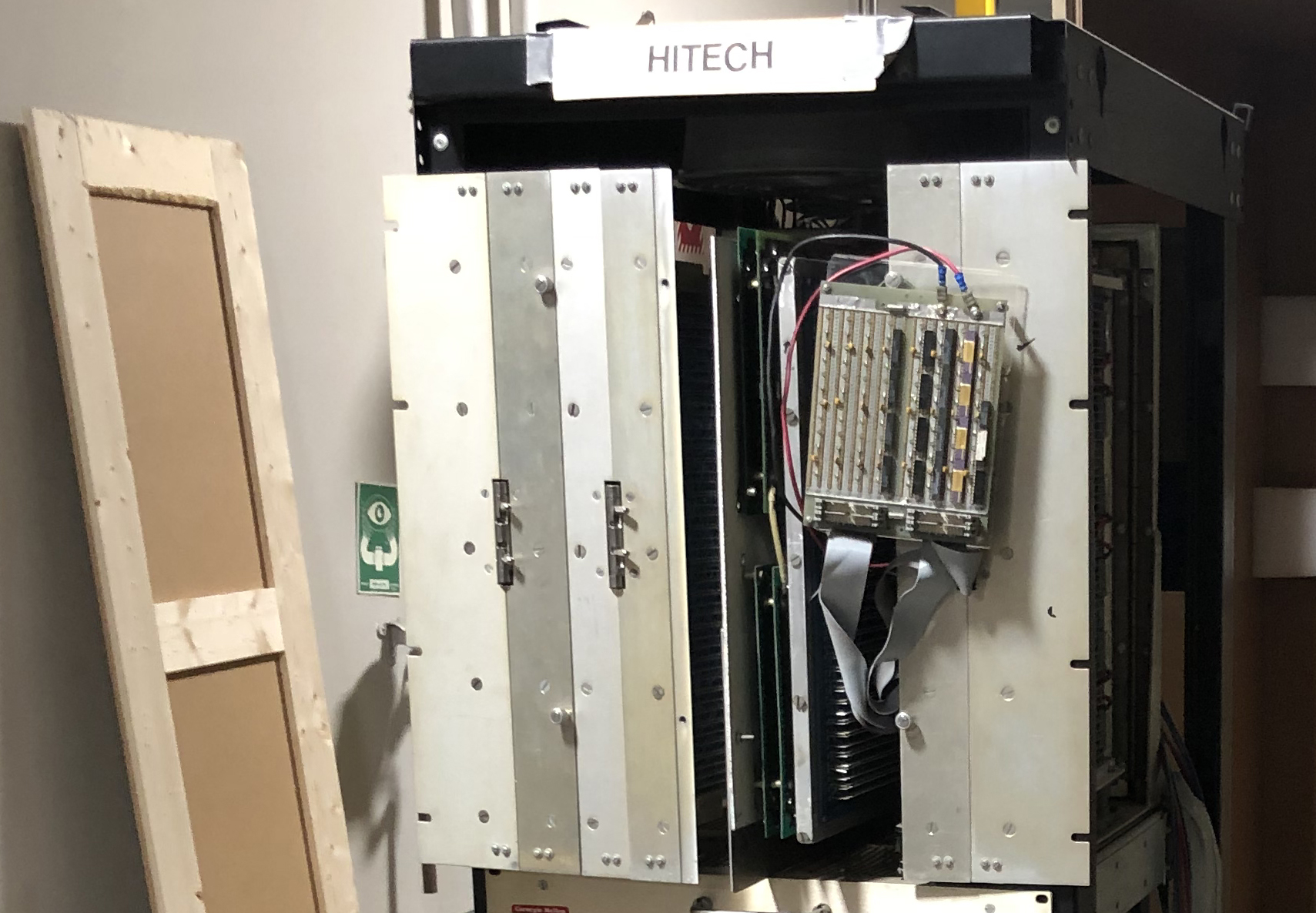 The Carnegie Mellon University Libraries became steward of yet another important artifact in the history of computing on September 19. The Robotics Project added the HiTech chess machine to the University Archives, moving it to Hunt Library from Newell Simon Hall.
Since Carnegie Mellon established the Robotics Institute — the first robotics department in the country — in 1979, the university has developed a reputation as a hub for robotics research. Over the past 40 years, it has built up a rich history in research areas like field robotics, artificial intelligence, and human-robot interaction. The Robotics Project, an interdisciplinary approach to preserving the legacy of robotics through a partnership between the Libraries and the School of Computer Science, is committed to documenting this history and related fields and making it accessible for researchers in years to come.
"HiTech was an important milestone in AI research," said Christopher Atkeson, a professor in the School of Computer Science and the Human-Computer Interaction Institute who was instrumental in preserving the machine. "It is important that students have a feel for the million fold increase in computational power and what is possible with hardware since the 1980s, and what that might mean for them in the next 40 years."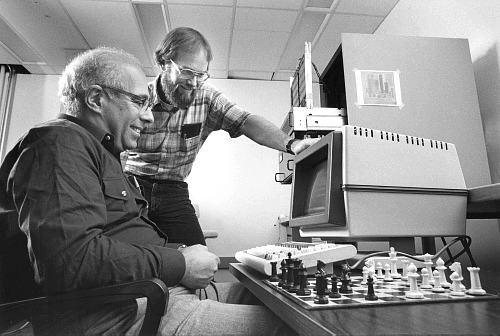 Computer Science Department faculty member and Grandmaster of Correspondence Chess Hans Berliner (left) and his student Carl Ebeling, who built HiTech.
Created at Carnegie Mellon by Computer Science Department faculty member and Grandmaster of Correspondence Chess Hans Berliner and his team of researchers, HiTech was an early attempt at creating a chess program capable of beating humans at the game. It was the first computer system to reach the rank of senior master, and, in 1988, the first to best a grandmaster.
In its prime, the machine could scan more than 120,000 positions per second, and was integral for research into new, more effective search techniques. Previously housed by the School of Computer Science at Newell Simon Hall, the nearly six-foot-tall computer mainframe was transported to Hunt Library in a custom crate created by ARCA Fine Art Services.
"It's been 40 years, so the fact that it's still there and intact is wonderful. You don't always see that with these artifacts — scientists sometimes take their works apart and use the pieces for other projects," Robot Archive Processing Archivist Kathleen Donahoe said. "Now we're bringing it into an archival environment, to ensure it will be preserved for researchers to study long into the future."
HiTech was part of the collection of Atekson, whose donations of robotics history artifacts and memorabilia helped jumpstart the Robotics Project in December of 2020. These items included projects he led, both at Carnegie Mellon and during his time at the Massachusetts Institute of Technology (MIT), as well as other valuable artifacts that he saved for posterity. Because of HiTech's large size and unusual shape, it took more time than the rest of the collection to arrange its safe transport to Hunt. "This is a huge step for The Robotics Project," Donahoe said. "Chris Atkeson and the School of Computer Science are giving us an incredible artifact, and we couldn't do this without their help."
HiTech joins other artifacts from Atkeson's collection at Hunt Library, including pieces of Ivan Sutherland's Walking Robot, also known as the Trojan Cockroach, and the inflatable robot arm that inspired Baymax in the film "Big Hero 6." The University Archives is also home to the archives of computer science pioneers Herbert A. Simon and Allen Newell, as well as other innovators in the field, and maintains the historic records of the School of Computer Science, its departments, and computing at CMU dating back to its earliest days on campus.
---
by Sarah Bender, Communications Coordinator