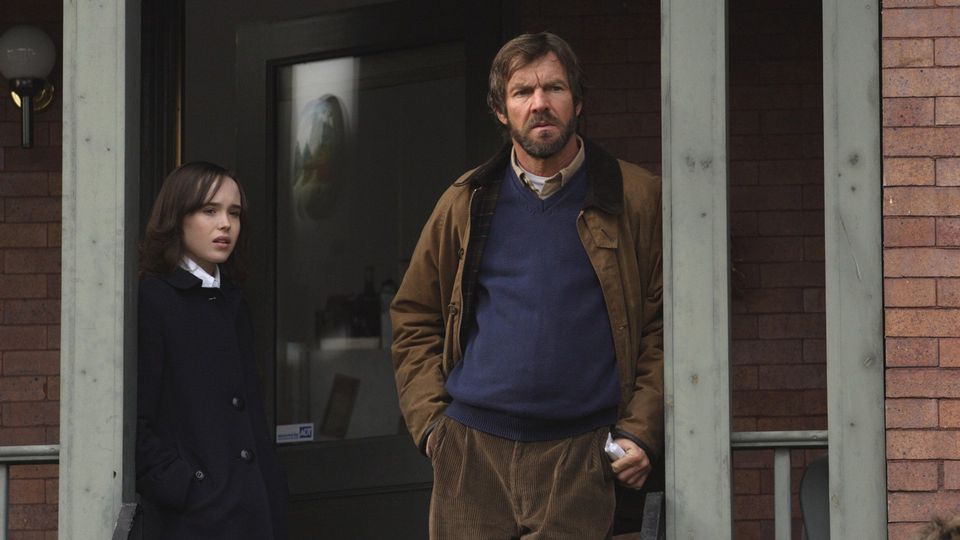 These films didn't break box-office records, but they hold interest and hold up well. If you're a true Pittsburgher, and/or a movie-lover, check these out! You may discover a new favorite.
---
Wonder Boys (DVD-3116)
Michael Douglas, Robert Downey, Jr., Katie Holmes, Frances McDormand, Tobey Maguire (2000)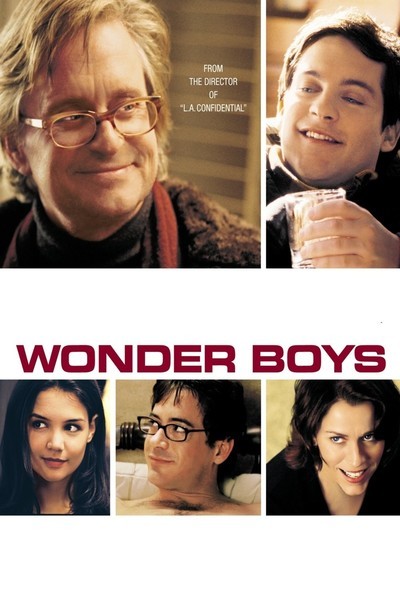 (Rated R) From Michael Chabon's novel, which you can also check out from Hunt Library. Michael Douglas plays Grady Tripp, an English professor who wrote an award-winning novel seven years ago, but struggles with the sequel, writing hundreds of pages of unnecessary details. His wife is leaving him, and he's involved with the university chancellor (Frances McDormand), who tells him she is pregnant. Tripp decides to take a promising student (Tobey Maguire) under his wing, and they spend a weekend partying with another student (Katie Holmes) who is renting a room in Tripp's house. Robert Downey, Jr. plays Tripp's agent, in town to attend a literary festival and to nudge Tripp towards finishing.

Writers at work usually look terrible, so I loved seeing Michael Douglas scruffy and unshaven, in his wife's ratty pink chenille robe, typing frustratedly. I hated the part about a dead dog used for comedy. Chabon based the story on a professor at Pitt and his legendary parties, and Roger Ebert says it's "the most accurate movie about campus life that I can remember," because students leave but faculty stays, and because many faculty members act like students, which is scary. My co-workers and I watched while the crew filmed take after take of Michael Douglas, briefcase in hand, walking out of Baker Hall. Each time, the same background artists crossed the path, chatting, and an assistant carried Douglas' briefcase back into Baker Hall. This tiny scene took an entire day, and it was cut from the final version. We also watched set decorators carefully arrange fake snow on the grounds by our windows. I think I got more out of the filming process than the movie, but many reviewers disagreed, so you be the judge.
---
10th & Wolf (DVD-8245)
James Marsden, Brian Dennehy, Giovanni Ribisi (2006)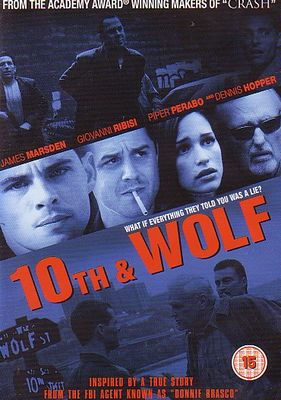 (Rated R) A soldier comes home to face the mob boss who was instrumental in his decision to join the military. Early on, after a shooting, one mobster describes the neighborhood: "What are you gonna do, call the cops? Police don't care about 10th & Wolf." Lots of sudden, almost offhand violence and drawn-out cruelty which I guess is normal for a mafia movie. Once I steeled myself to that, I appreciated the plot twists, the flashes of humor, Ribisi's swagger, the wealthy mobsters wiping their eyes at a private, in-home performance of "Pagliacci." Lesley Ann Warren's sexy, emotional character explodes in one unforgettable scene. Piper Perabo's determined single mom of a sick child uses an unidentifiable accent (working class? Philly?) but she shows her own strength in this world of criminal men.

Supposedly set in Philadelphia, but clearly filmed in Pittsburgh. There's mention of Pearl Street in Bloomfield; the famous "Three Sisters" yellow bridges; and key scenes at Wholey's, a fish market in Pittsburgh's Strip District.
---
Pittsburgh (DVD-8120)
Jeff Goldblum, Ed Begley Jr. (2006)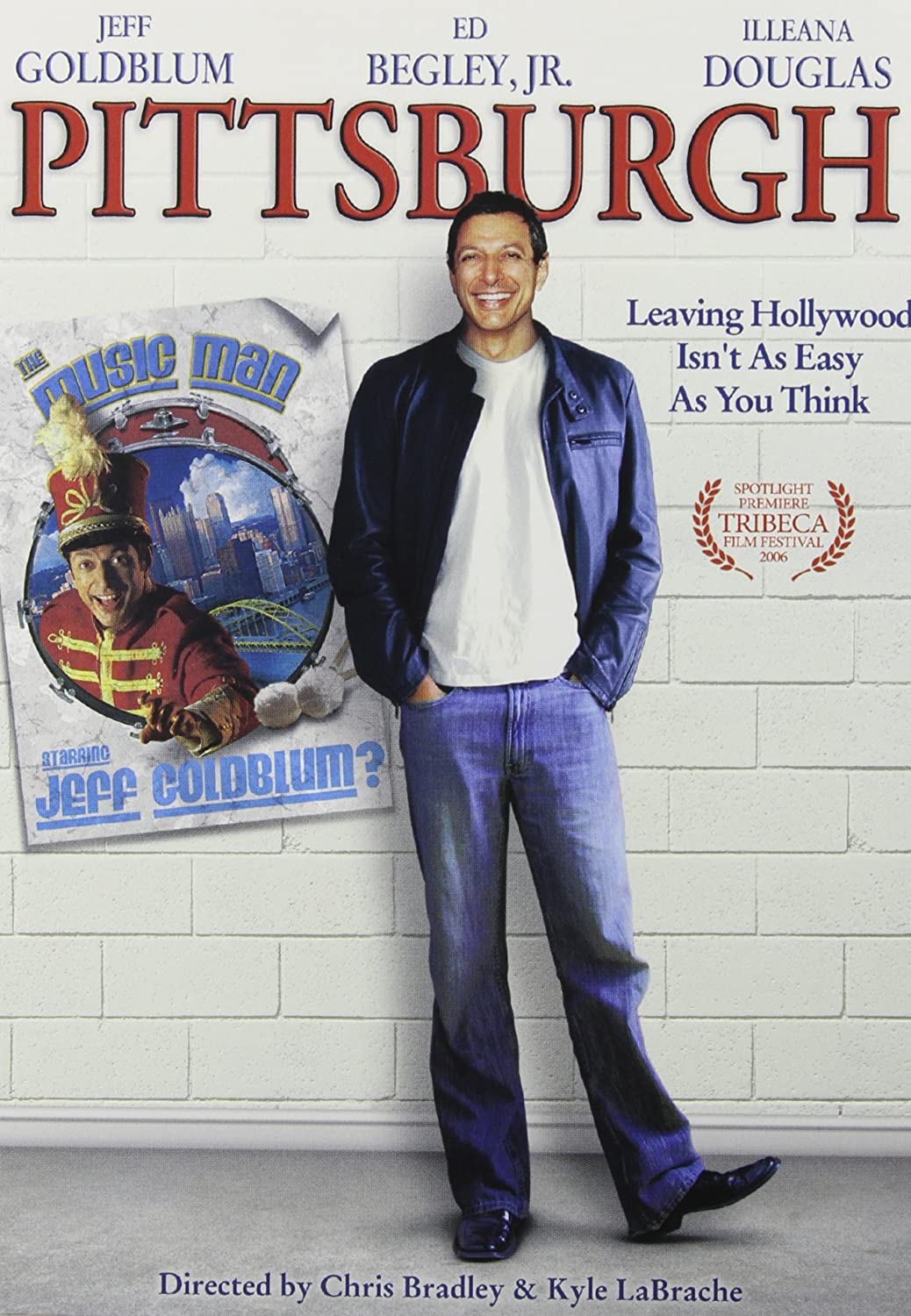 (Not rated) The first half of this mockumentary takes place in LA, with Goldblum deciding, against his manager's advice, to play Harold Hill in the Pittsburgh CLO's production of "The Music Man." He wants mostly to be with his Canadian girlfriend (Catherine Wreford) who's playing Marian the Librarian and needs to get her green card. Much is made of Goldblum's part in Pittsburgh as a step down in his career, but he persists, and convinces his friends Ed Begley Jr. and Illeana Douglas to join him and play Mayor Shinn and Eulalie Mackechnie Shinn. At one point Illeana Douglas says "It doesn't get better than this, right? You and me, in Pittsburgh? I'm gonna kill myself."

There are many scenes of Pittsburgh (the Gateway Party Liner on the Allegheny, the Clemente Bridge, and the city skyline) and an interview at KDKA. Rehearsal scenes for "The Music Man" are a riot, with the choreographer teaching the dance steps and the director despairing of Goldblum's performance: "you look agitated, you look smarmy." After the musical's successful run at the Benedum, mayor Luke Ravenstahl proclaims July 13th "Jeff Goldblum Day" at the City County Building, and the movie ends with Goldblum, his girlfriend, Douglas, and Begley having fun at Kennywood.
---
The Mysteries of Pittsburgh (DVD-8247)
Jon Foster, Peter Sarsgaard, Sienna Miller, Mena Suvari, Nick Nolte (2008)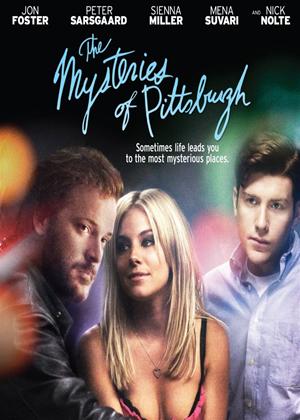 (Rated R) Based on another Michael Chabon novel which is also available from Hunt Library. Jon Foster plays Art, a recent college grad who resists working for his gangster father (Nick Nolte), takes a job at a bookstore, has sex with his manager (Mena Suvari) in the back room, and hangs out with new friend Cleveland (Peter Sarsgaard) and Cleveland's girlfriend Jane (Sienna Miller). Pittsburghers may remember and dislike Sienna Miller for a 2006 interview with Rolling Stone in which she disparaged our fair city. (You can Google it.) The blowback was immediate, and Miller apologized, hopefully learning some manners in the process.

Foster plays his character super low-key, and it's believable that he could be drawn in by anyone who pays him any attention. Peter Sarsgaard is seductive in a laid-back, passive kind of way. Most critics agreed that Chabon's novel was better than the movie, and I also remember liking the book better. There are lovely shots of Pittsburgh bridges, Carnegie Hall, and the Architecture Hall of Carnegie Museum. There's a light, mood-setting scene of a pick-up soccer game at the Point with the fountain in the background, a mention of "getting fries at the O," and some other Pittsburgh scenes. But I was disappointed to see that the novel's "Cloud Factory," the steam plant in Panther Hollow, was relocated to an old defunct mill, which didn't even make sense.
---
Smart People (DVD-8121)
Dennis Quaid, Thomas Haden Church, Sarah Jessica Parker, Elliot Page (2008)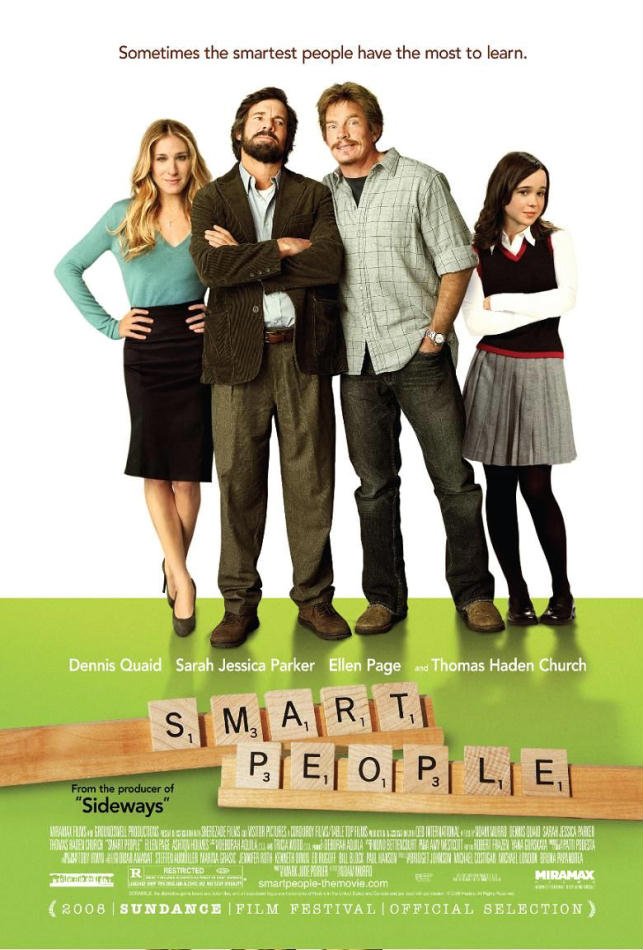 (Rated R) Of all these lesser-known gems, this is my favorite. Dennis Quaid plays Lawrence Weatherhold, a widowed English professor at CMU. We know from his first scene, where he purposely parks across two spaces, that he's a rude, selfish jerk. Thomas Haden Church plays Chuck (who Lawrence constantly refers to as his "adopted" brother), a much more relaxed, personable guy, currently unemployed and homeless. He visits and asks to stay. Lawrence's son James (Ashton Holmes) readily offers a room, to the frustration of Lawrence and his daughter Vanessa (Elliot Page) who keeps the house in order and studies constantly for her SATs. She lectures Chuck, "You should really make your bed. It sets the tone for the day." Chuck answers, "How do you know the tone I wanted to set, though?"

Lawrence injures his head, and his ER doctor (Sarah Jessica Parker) forbids him to drive; Chuck becomes his less-than-reliable chauffeur. Chuck brings more spontaneity and cheer to the family, and Sarah Jessica Parker brings romance and humanity to the grumpy professor. A few jokes bordering on homophobic and transgenderphobic might not land as well now, but overall the dialog is intelligent and catchy. As director Noam Murro says, "It's a film about damaged people. I have yet to meet someone who isn't." In the DVD extras, producer Bridget Johnson said she "fell in love with the look" of Carnegie Mellon. "It's not the traditional generic architecture and Ivy League red brick .. it's very unique." Another producer says "Pittsburgh is really a character in the movie." My coworkers and I watched the filming of one scene on Hunt Library's second floor; it's in the deleted scenes. Also there are takes of Sarah Jessica Parker giggling with embarrassment at Dennis Quaid's passionate kiss; I've always wondered how awkward that must be. Outtakes aside, though, all the characters learn how to become more than book-smart, in a quirky and offbeat story that will make you smile. Make sure you watch through the end credits for more fun.
---
Reviewed by Jan Hardy, Library Specialist
Feature image, screen shot from "Smart People."