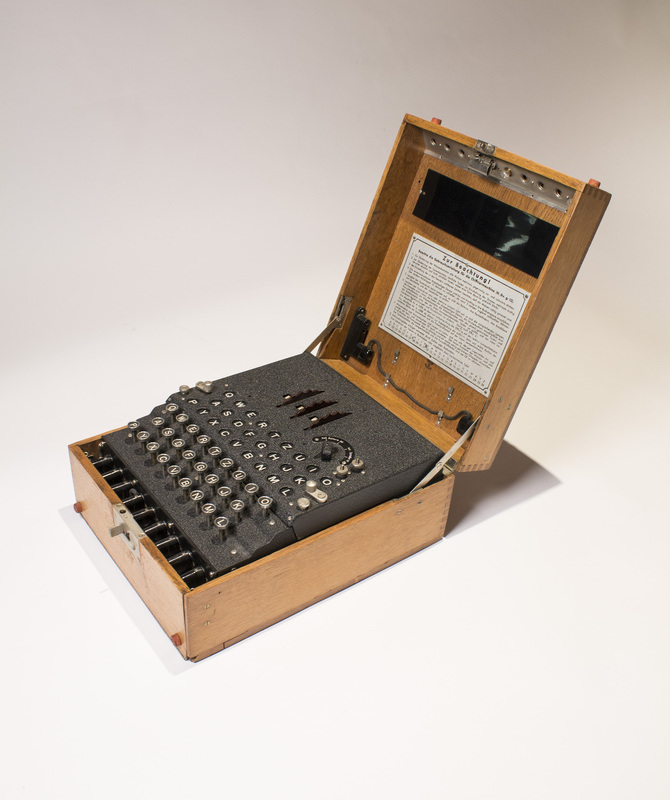 Sept. 2, 2021
Visitors to a new exhibit and program at Duquesne University can learn how cracking the Enigma code, a cipher device used by the German military to encode strategic messages, was a vital breakthrough that helped end World War II, saved countless lives and secure Allied victories.
The Role of Poles in Breaking the Enigma Code program and the Enigma-Decipher Victory exhibition will be hosted by Duquesne University's Gumberg Library, the Polish Cultural Council and Britsburgh. Both events are free and open to the public.
The Role of Poles in Breaking the Enigma Code will be presented by Dr. Roman Sznajder from 7 to 9 p.m. Friday, Oct. 1, in the Power Center Ballroom. Doors open at 6:30 p.m. A special exhibition preview will be available for attendees. Refreshments will be provided and registration is required. To register, visit Gumberg Library's website.
Sznajder is professor of mathematics and graduate program coordinator in applied and computational mathematics at Bowie State University in Maryland. He has authored and co-authored many research articles, presented his findings at numerous national and international conferences and reviewed papers for more than 30 research journals.
An authentic Enigma machine will be on display during the event, courtesy of Carnegie Mellon University Libraries, Special Collections, Traub-McCorduck Collection.
"This program will spotlight the all too often overlooked but invaluable role of Polish mathematicians in deciphering Enigma, an achievement which they shared with their British allies, ultimately facilitating the success of Alan Turing and other British codebreakers at Bletchley Park in breaking a more evolved version of the Enigma code later on, thereby shortening the war," said Brittsburgh President Robert Charlesworth.
The Enigma—Decipher Victory exhibition will be on display at Gumberg Library's fourth floor Monday, Oct. 4, through Friday, Oct. 15. On loan from the Embassy of Poland in Washington, D.C., the exhibition draws attention to Polish contributions to Allied efforts to keep up with changes made by the Germans in their wartime use of the Enigma coding machines.
Originally created for commercial use, the Enigma coding machine was adapted for use by the German armed forces as a secure and mobile military communication device. The Polish Cypher Bureau recruited the top three math students from the University of Poznan after realizing German forces intended to use the Enigma machine for war in the 1920s. The decryption of the German Enigma code turned the tide of World War II in favor of the Allies.
Guests will be able to view a sampling of World War II intelligence, propaganda, publications and artifacts from Gumberg Library's James F. Clarke Collection on display in the Library's first floor Archive. In 1942, Clarke headed the Balkan section of the Office of Strategic Services—the predecessor of the CIA—and from 1943-1945, he also directed the Balkan, Central and South-East European sections of the Office of War Information.
The Enigma—Decipher Victory exhibition are sponsored by Duquesne University's Gumberg Library, the Polish Cultural Council of Pittsburgh, Britsburgh (British-American Connections Pittsburgh), the Polish Cultural Institute of New York, and the embassy of the Republic of Poland in Washington D.C.
For more information about library hours and other events, visit the exhibit website.
About Britsburgh
Britsburgh enriches the Pittsburgh region with year-round programs and events about British history, tradition and culture that give participants opportunities to engage with one another in a lively spirit of camaraderie. www.britsburgh.com
About Polish Cultural Council
The Polish Cultural Council's mission is to showcase the finest achievements in the Polish arts and sciences and helps to promote unity among the regions' Polish-American community by presenting Polish themed cultural events, programs, lectures, and exhibits. polishculturalcouncil.org
Duquesne University
Founded in 1878, Duquesne is consistently ranked among the nation's top Catholic universities for its award-winning faculty and horizon-expanding education. A campus of nearly 9,500 graduate and undergraduate students, Duquesne prepares students by having them work alongside faculty to discover and reach their goals. The University's academic programs, community service, and commitment to equity and opportunity in the Pittsburgh region have earned national acclaim.
It's time for bigger goals. Follow Duquesne University on Facebook, Twitter, Instagram and LinkedIn. www.duq.edu
Contact
Gabrielle Payne, 412.354.2566
Rose Ravasio, 412.396.6051/cell 412.818.0234
Ken Walters, 412.396.1154/cell 412.417.8156