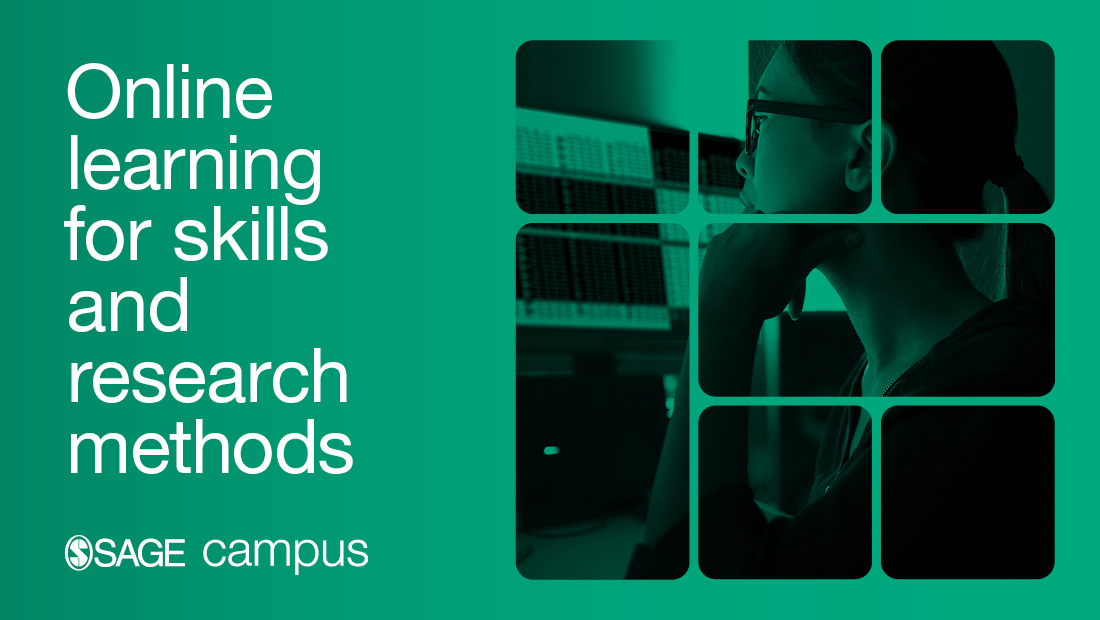 The Libraries now offers access to SAGE Campus. SAGE Campus provides a growing collection of online courses on introductory skills and research methods including critical thinking, data literacy, research design, R, Python, statistical methods and more. It can be used for self-paced learning or integrated into course instruction with assigned student cohorts.
The SAGE Campus platform has 220+ hours of structured online learning for skills and research methods. The courses are self-paced, so you can dip in and out and fit learning around your busy schedules. The courses are an engaging mix of SAGE-quality content, video, interactives, and formative assessments – giving you practical skills for study, research, and the workplace.
What are the course topics?
SAGE Campus has 18 online courses, with 9 more courses launching in July 2021. The courses cover tricky and research methods that can be applied across all stages of academic study, split into the below categories:
Navigating information: including critical thinking.
Data literacy: including statistical significance and data visualisation.
Data science skills: including programming in R and Python, text analysis and more.
Research skills: including how to present your research and write a research question.
Getting published: including how to write a journal article and introduction to publishing.
How can faculty use the courses?
Supplement classes with academically rigorous online resources in flipped classroom or asynchronous teaching.
Set as prerequisites or preparatory material for students who need extra support.
Increase employability by equipping students and researchers with career-ready skills.
Improve student success by enabling students to hone skills with practice to connect to theory covered in class.
Expand face to face training and make learning accessible for off campus students.
Promote autonomous learning for students, researchers and faculty to keep up with the latest skills and methods.
Access SAGE Campus to get started.