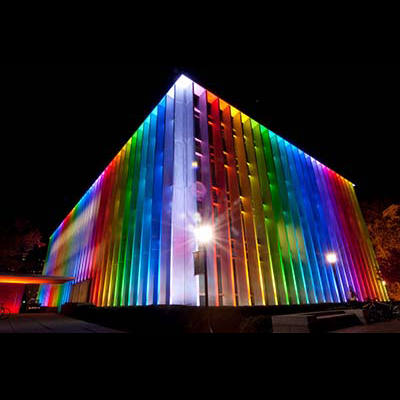 Carnegie Mellon University has awarded faculty emerita status to Gabrielle V. Michalek, director of connected scholarship in the University Libraries. In her 35 years with the university, Michalek established and developed the University Archives, laying a foundation from which the Archives continues to build and expand.
Michalek began her career at Carnegie Mellon University Libraries in 1986 by organizing the architectural collections that eventually became the Architecture Archives. That year, she conducted research for the fourth volume of the history of the university, entitled "Evolution of a National Research University: 1965–1990: The Stever Administration and the Cyert Years at Carnegie Mellon." As a result of her work on that project, Michalek identified the urgent need to archive official and unofficial university records. Working with President Cyert, she helped draft the Policy on Historic Records that founded the Carnegie Mellon Archives. In 1987, she was appointed University Archivist.
As Head of the Archives from 1987 to 1999, Michalek built the Archives and appraised, preserved, classified, described, and catalogued university records and artifacts, senatorial papers, historical documents, art and antiques, and audio and video collections including the University's Artistic Properties Program. She acquired significant collections, including the papers of Nobel Laureate Herbert Simon, Nobel Laureate Clifford Shull, Allen Newell, Joseph Traub and Pamela McCordick, and the papers of Mellon Institute. She was responsible for conserving major works of art on campus including Peaceable Kingdom, and the portraits of Andrew Carnegie, Margaret Morrison Carnegie and Mary Bidwell Breed.
In 1991, Michalek oversaw the acquisition of the H. John Heinz III Congressional Archives and began working as part of a team to develop the HELIOS system, a seminal system that supported some of the first standards for making archival materials available on the web. The HELIOS project was the first large scale digitization project for an archival collection, providing full-text searchable access to the digitized papers of the late Senator Heinz. Under her leadership, the University Archives joined the MetaArchive, and the LOCKSS Network to help ensure the preservation of CMU's digital archives and digital library journal collections.
As Head of the Archives and Digital Initiatives from 2000 to 2014, Michalek also directed the University's institutional repository and worked to make more information freely available via open access.  She directed the Pittsburgh Jewish Newspaper Project where she helped preserve the identity of the Pittsburgh Jewish community through the digitization of historic journals published within that community. Michalek has spent the last several years as Director of Connected Scholarship working with the Office of Graduate Education to develop teaching materials and lead workshops on good data hygiene skills.  
Throughout her career, Michalek has supported and guided the careers of numerous graduate students and staff members and served as a partner on national and international collaborations, including the Million Book project and the creation of standards for digital data through the National Institute of Standards and Technology.