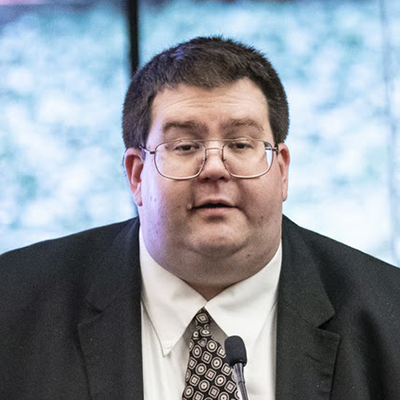 The HistoryMakers, the nation's largest African American video oral history archive, has awarded its 2021 Faculty Innovations in Pedagogy and Teaching Fellowship to Carnegie Mellon University Visiting Professor Dr. Andrew Meade McGee. McGee is one of seven awardees that also includes: 
•    Dr. Terrance Dean, Assistant Professor, Black Studies, Denison University 
•    Dr. Farhana Ferdous, Assistant Professor, Department of Architecture, Howard University 
•    April D. Lundy, Associate Professor, Film and Television Studies, Clark Atlanta University 
•    Dr. Clinton Nichols, Assistant Professor, Criminology, Dominican University
•    Dr. Adrienne Petty, Associate Professor, History, College of William & Mary
•    Dr. Deborah Elizabeth Whaley, Professor, American Studies, University of Iowa
McGee's course, entitled "From the Atom Bomb to 9/11: United States History 1945-2001," will use The HistoryMakers Digital Archive to examine the political, social, and cultural history of the United States after 1945. The course seeks to answer the question: How did we get from there to here, and what did the momentous post-World War II years mean for the ordinary Americans who experienced them? Primary sources, oral histories, scholarly secondary readings, and period films and media will provide lenses into the broad forces, institutional structures, and lived personal experiences of recent American history.
Now in its second year, The HistoryMakers Faculty Innovations in Pedagogy and Teaching Fellowship is designed to foster classroom innovation and teaching, and to diversify curricula while furthering student learning and research skills during the upcoming academic year. Award recipients will receive a $7,500 award and the opportunity to demonstrate how faculty can creatively incorporate The HistoryMakers Digital Archive into a semester course and syllabus.
The fellowship's inaugural program was established in 2020 at the University of Virginia under the leadership of Associate Dean Michael Gerard Mason, Director of the Luther Porter Jackson Black Cultural Center, and with funding from the Andrew W. Mellon Foundation.
"The fellowship's first year proved The HistoryMakers Digital Archive is a unique electronic resource that works well in-person or over video-sharing platforms like Zoom. This year, I am so pleased by the caliber of applications received and look forward to what engaging discussion and research spring from use of the archive," said The HistoryMakers Founder and President, Julieanna L. Richardson.
ABOUT THE HISTORYMAKERS
The HistoryMakers, a 501(c)(3) national non-profit organization headquartered in Chicago, Illinois, is the largest digital repository of the Black experience in the country. The HistoryMakers Collection represents the only massive attempt to record the black experience since the WPA Slave Narratives of the 1930s. In 2014, it was announced that the Library of Congress would serve as the permanent repository for The HistoryMakers Collection. To date, the organization has interviewed over 3,300 African American leaders in the U.S. from 413 cities and towns as well as abroad.
For more information on The HistoryMakers 2021 Faculty Innovations in Pedagogy and Teaching Fellowships, visit The HistoryMakers website.