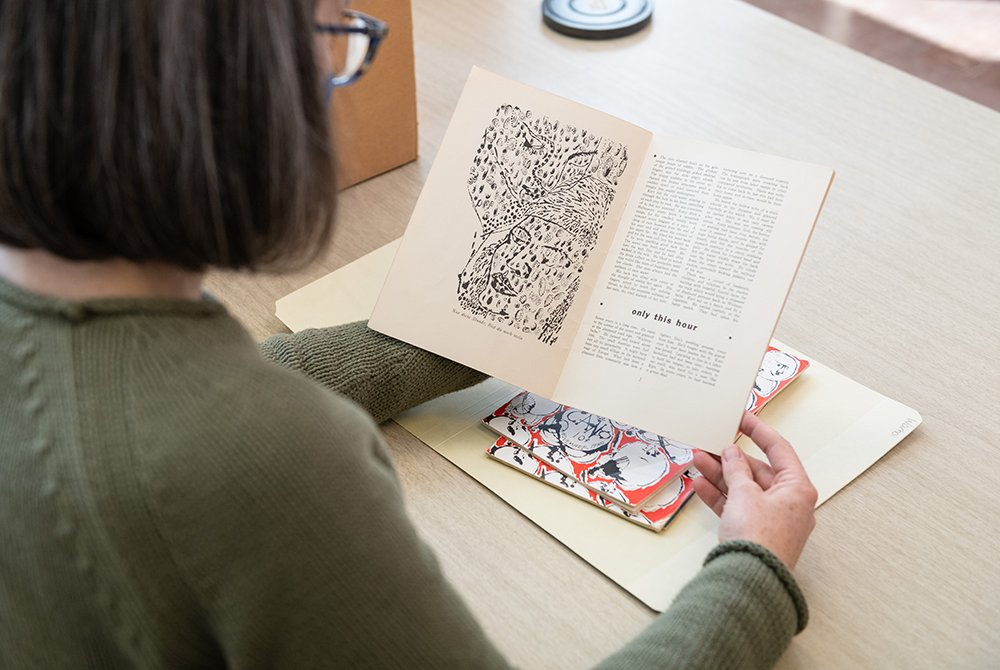 The University Archives is home to over 100 years of CMU history held within approximately 5,000 linear feet and 10TB of archival records. Many of the items held within the Archives have historical significance, below are some highlights. Learn more about how you can support the work of the University Archives.
Cano: The Literary Magazine of the Carnegie Institute of Technology (1947-1949)
While Andy Warhol was a student at Carnegie Institute in the late 1940s, he was the art director for Cano, a student-produced literary magazine. Warhol, then a senior, designed the cover of the November 1948 issue. This illustration is widely considered his first known published work. Another Warhol illustration is included in the April 1949 issue. The University Archives is home to Carnegie Mellon's history, including over ten decades of student-produced publications, like Cano, that feature students' unique perspectives and talents. 
1912 Charter 
Andrew Carnegie founded Carnegie Technical Schools in 1900 with a million-dollar endowment. He envisioned a school where Pittsburgh's working-class could learn practical skills and trades to enhance their lives and help their communities thrive. In 1912 the school changed its name to Carnegie Institute of Technology and began offering four-year degrees. The 1912 charter, ratifying the new corporation and signed by Andrew Carnegie himself, is kept in the University Archives and brought out for special occasions like the inauguration of a new university president.  
Margaret Morrison Carnegie College Registration Card for Anita Newell 
The Margaret Morrison Carnegie College was the women's college at Carnegie. A record of almost every student at MMCC can be found in this collection of registration cards, offering a unique insight into the school's history. One of our favorites is the record of Anita Newell who graduated in 1947 with a degree in Library Science and went on to be the head librarian at Westinghouse for 30+ years. Newell was interviewed as part of the University Archives Oral History Program in 2017. 
C-MAP Photo Albums (1984-2005)
The Carnegie Mellon Action Project, known as C-MAP, was established in 1968 to increase the recruitment and retention of Black and African-American students at CMU. Later, C-MAP broadened its scope to include Lantix, Hispanic, and Native Americans, as well as first-generation college students. Between 1984 and 2005, C-MAP administrators documented Buggy races, SPIRIT Fashion Shows, award banquets, weddings, alumni receptions, and many other C-MAP related activities. In total, 71 photo albums were created, capturing the students who were part of the C-MAP family. In 2017 these albums were transferred to the University Archives, where now anyone can make an appointment to look at them and talk a walk down memory lane. 
WWI Photograph of a Tank Demonstration on Campus
After the United States entered World War I on April 6, 1917, there was a need to dramatically grow the Army's size. Military camps sprang up around the country to train new officers. Carnegie Institute of Technology hosted one of those camps, converting its entire academic apparatus into a machine of war. Many people do not know about this moment in the university's history, making photographs from 'Camp Carnegie' astonishing and somewhat surreal. The University Archives is home to over 1 million photographs that document the university throughout its incredible history. 
George Corrin Papers
George Corrin was one of the first Black students—if not the first—to graduate from the School of Drama.  Initially denied admission to the program due to his race, he refused to take no for an answer and submitted a series of recommendations that caused the school to change its mind. Following his service in World War II and graduation from Carnegie Institute of Technology (CIT), he worked as a prolific set designer, pioneering the design of television news and designing the Kennedy-Nixon debates. The University Archives is home to George Corrin's papers, which include many large-scale set designs and photographs of his work.  Taken as a whole, the collection reflects Corrin's substantial impacts on our current visual culture.  
Cross-section of the Fence
Many years ago, the infamous Fence began to deteriorate -- eventually collapsing under its own weight. This cross-section from the Fence, taken when the University replaced the original wooden fence with a new structure made of concrete and steel, reveals the numerous layers of paint that had been applied throughout the years. Can you imagine how fat a slice of the fence would be today? This unique memento came to the University Archives in 2012 as part of Bill Elliot's massive CMU memorabilia collection. It is one of our favorite objects to share with visitors.