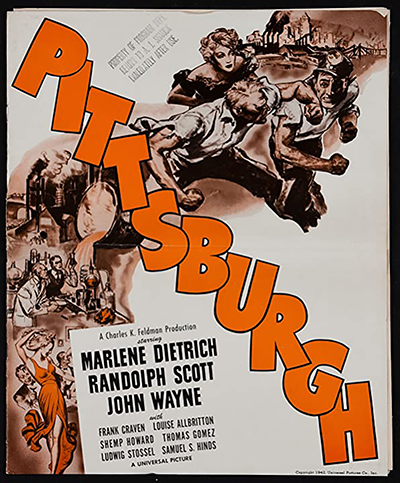 If you live in Pittsburgh, you probably know a few movies that were filmed here - 'Flashdance,' 'The Deer Hunter,' and more recently, the excellent 'Fences.' With the help of Wikipedia and IMDB.com, I found many more, and I began researching these greater and lesser 'filmed in Pittsburgh' gems. Below and in future posts, I'll summarize a few of my finds, beginning with some of the earliest.
1905 – The Juvenile, or The Little Train Robbery - Filmed by the owner of Olympia Park, an early amusement park in McKeesport. It's an 11-minute silent film imitating 1903's 'The Great Train Robbery,' featuring the amusement park's train and child actors. Rick Sebak, the jovial Pittsburgh historian, includes it as an extra in his 1994 documentary Stuff That's Gone,a fun collection of lost Pittsburgh icons. (DVD-2749)
1914 – The Perils of Pauline starring Pearl White, mostly shot in New Jersey, but scenes also filmed in Pittsburgh. Fun facts from Wikipedia: 'the original heroine was neither as helpless as the caricatures, nor did the original series include the much-parodied 'tied to railroad tracks' or 'tied to buzz saw' scenarios.' (available on YouTube)
1924 – Fording the Lincoln Highway - In June 1924, the ten-millionth Model T rolled off the assembly line, and Ford sent the automobile on a cross-country jaunt promoting the company. Crowds of well-wishers and local dignitaries greeted the vehicle as it passed through cities and towns. So, briefly, we get a title: 'Mayor Magee greets us at the City Hall, Pittsburg.' We had the 'h' by then, but Ford didn't know that. (available on YouTube)
1939 – Allegheny Uprising (John Wayne, Claire Trevor) - In 1759, a colonial rebel (Wayne) fights Native Americans and a British captain, played by George Sanders with his usual hauteur. Since not much existed of Pittsburgh in 1759, there aren't any recognizable shots of the city, just fields, a tavern, and a stream. John Wayne's character mentions General Forbes and General Bouquet, and he travels from Philadelphia to Carlisle to Fort Pitt. (DVD-115)
1942 – Pittsburgh (John Wayne, Marlene Dietrich) - The IMDB blurb says 'Charles 'Pittsburgh' Markham rides roughshod over his friends, his lovers, and his ideals in his trek towards financial success in the Pittsburgh steel industry, only to find himself deserted and lonely at the top.' It's an entertaining movie, with better performances than 'Allegheny Uprising' and more social commentary. There are shots of the steel mills in operation, and a scene in a coal-mining shanty town. I thought I recognized the J&L plant that used to be along the Parkway East below Oakland, and the five smokestacks that now mark the Waterfront shopping area. Also, it's cool to hear John Wayne called 'Pittsburgh,' 'Pitt' for short.
Some fun 'goofs' from IMDB: Although the bulk of the picture takes place in the 1920s, clothes and hairstyles are from 1942, when the picture was made. Early in the film, when the participants are supposedly racing to a mine disaster in the Pittsburgh area circa 1920, the film uses stock footage of a chase through downtown Los Angeles circa 1942. I would also note that John Wayne as 'Pittsburgh' and his friend Cash go right into their doctor's middle-class house after a day at the mines, instead of into the basement to wash up in the typical 'Pittsburgh bathroom.' (available at Carnegie Library of Pittsburgh)
1945 – Valley of Decision (Gregory Peck, Greer Garson, and Lionel Barrymore) – Mary Rafferty comes from a poor family of steel mill workers in 19th century Pittsburgh. Against her father's wishes, she goes to work as a maid for the wealthy Scott family, which controls the mill. Mary catches the attention of handsome scion Paul Scott, but their romance is complicated by a bitter strike among the mill workers.
This film holds up very well, and I totally recommend it. The opening voice-over begins with 'This was Pittsburgh in 1873,' and goes on to describe the steel mills and the workers' towns. We see some shots of both, and a wealthy neighborhood that might be the North Side. (DVD-8082)
Quote: Mary is upset over her father's stubbornness and begins to cry. Paul leads her to a bluff overlooking the steel mills. (Imagine Gregory Peck's mellifluous voice.) 'You can see all of Pittsburgh from here, but Pittsburgh can't see you. Why don't you sit down and cry it out?'
Many more movies filmed in Pittsburgh, and more summaries to come in future blog posts!
by Jan Hardy