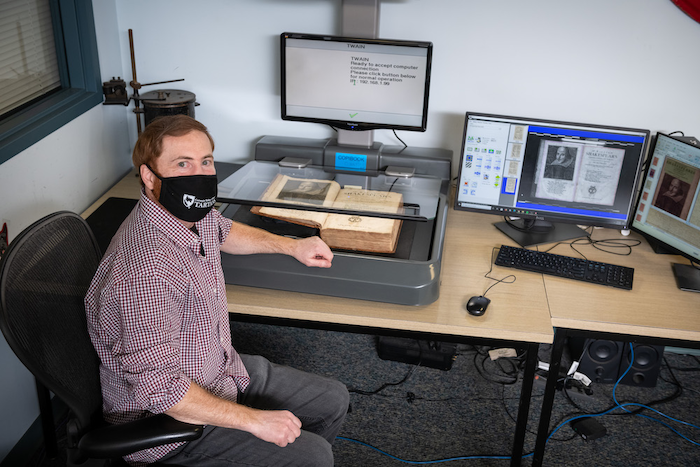 In August of 2019, the Libraries' Digitization Lab celebrated twenty-five years of operations. To mark this occasion, we wrote a blog post about the lab's history, highlighting a selection of our current and future projects. Since that post, our work has taken some unexpected turns due to the pandemic and its unprecedented impact on our daily activities. In response, we've pivoted to new projects that have expanded on and explored the possibilities of our core suite of services. 
In my role as Digitization Projects Manager, I have guided our team through a process of re-envisioning and reinventing the lab and its digitization services, while adhering to COVID-19 restrictions. No longer tethered to our desks at the 6555 Penn Avenue offices, the lab is now a virtual workspace that has altered, but not impeded, our productivity. Our new vision now includes—but is not limited to—digitization-related consultations, digitizing images for large-scale displays and book-publishing, and providing external consultations via office hours. 
A selection of recent projects we've worked on under this expansion of services includes:
Collaboration with Access Services to digitize books for their 'Controlled Digital Lending (CDL)' service.
Development of an accessibility rubric for scanning projects in consultation with Librarian Jessica Benner.
Introduction of photogrammetry (3D object scanning) as a digitization option and the development of workshops on the topic with Emma Slayton. 
Consultation with the Software Engineering Institute (SEI) and the Department of Homeland Security on digitization best practices and content management system recommendations.
Digitization of a 400-year old copy of Thomas Hobbes's book, Leviathan, for Professor Christopher Warren in the English Department.
Digitization of the handwritten sketchbook and diary from Hornbostel's 1893 European tour and Architectural Drawings (24'x36') from the Architecture Archives.
Collaboration with Samuel Lemley to digitize Shakespeare's Third (1664) and Fourth (1685) Folios from the University Libraries' Special Collections.
Digitization of images for marketing use in displays and publications such as the Libraries' exhibit, '600 Years in the Shadow of the Dome,' the Athletics Hall of Fame in the Cohon University Center, and vintage images of Buggy Races for 'Nuts, Bolts, & Wheels: 100 Years of Buggy.' 
Introduction of short tutorials, such as Food for Thought's 'Creating Emojis for Slack.'
Since the pandemic, the team has positioned the lab to provide support in tackling our technical debt—specifically, in the areas of metadata and quality control—by doing data clean-up and verification for 25 years' worth of metadata records. Our Digitization Technicians are also working with our Metadata Specialist and the Islandora team to create taxonomies for our digitized items. This process involves creating controlled vocabularies and subject headings, which will make our digital collections more discoverable.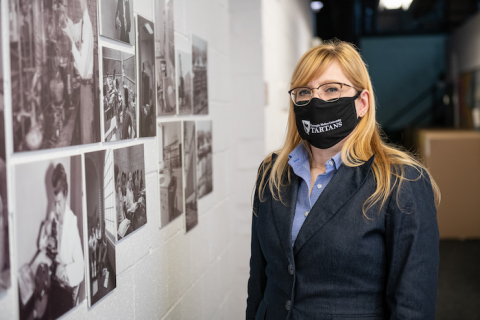 Our digitization technicians, Jon McIntire and Joe Mesco, deserve praise for their ability to easily pivot from scanning to learning OpenRefine in order to update and clean our records. In the process, they have learned to use the Getty Research Institute's online Art & Architecture Thesaurus as well as the Library of Congress' Subject Headings to enhance our metadata.
The Digitization Lab also offers metadata services via our Metadata Data Specialist, Lina Spotts. A majority of her work has consisted of cleaning, preparing, and enhancing our metadata records, which are critical in the migration to Islandora, our new Content Management System. Lina is also in the process of creating a metadata remediation plan for a quarter-of-a-century's worth of metadata records, overseeing the Digitization Technicians' work on the Taxonomy Project, providing both internal and external metadata consultations, and providing support to our Research Data Management team.
I would like to express my gratitude to the Digitization Lab team for all of their hard work in these difficult and unprecedented times, which has made the transition during these uncertain months an efficient and effective one and positioned the team to thrive in this ever-changing environment
by Digtization Projects Manager Ann Marie Mesco