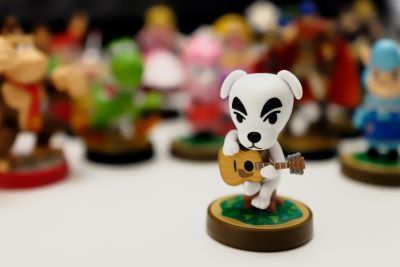 Hey, folks! For fans of the Animal Crossing games, tomorrow is an exciting, momentus day. On March 20th, 2020, Animal Crossing: New Horizons was released and gained millions of players across the world during its first year. During that time, I have not only played it in my personal life but I've also used it in my work at CMU Libraries to help bring a fun, lighthearted element to teaching data concepts. This month's Tartan Datascapes will celebrate the 1-year anniversary of Animal Crossing: New Horizons by highlighting how the game has been used to promote learning data skills and data engagement at CMU Libraries, and what's in store for the future! And, if you haven't played the game before, the official trailer from Nintendo gives a nice introduction to its game mechanics and overall feel.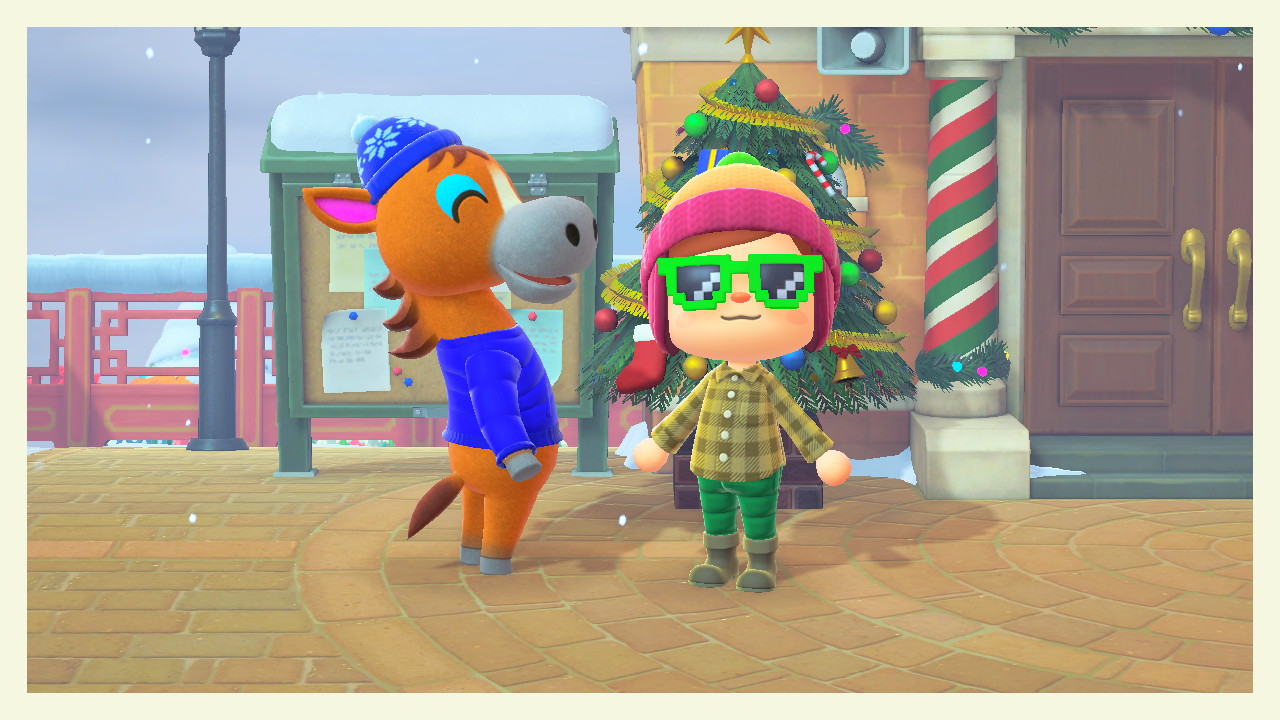 Hannah's avatar and her villager Elmer, a brown horse, standing in front of a decorated holiday tree with green and red lights, bells, and candycanes. It is snowing. Hannah is wearing green sunglasses, cozy green snowpants, and a brown plaid shirt.
I started playing the game in May of 2020, and since that time, I've amassed a lot of hours on my island of Kanto (named after the beloved Pokemon location!). My summer 2020 was defined by the game - throughout the pandemic thus far, the summer of 2020 was the most challenging for me personally for many reasons. One of those reasons was the general uncertainty of what was to come, and Animal Crossing: New Horizons was there for me after work each day to give my mind something to focus on. On even the roughest of days the game provided stability: I knew that I could always log on to my island and chop wood, build furniture, decorate and design my home, and interact with my villagers. Later that summer, I started to realize that I could bring the game into my working life, too! In July 2020, my colleague Angelina (Lina) Spotts, Metadata Specialist, and I released a Tartan Datascapes issue describing how the game can teach us about metadata and how to recognize it in our daily lives and within our own research data. While that blog post was initially just a one-time idea for bringing the game into the work being done at CMU Libraries, it turned out to only be the beginning!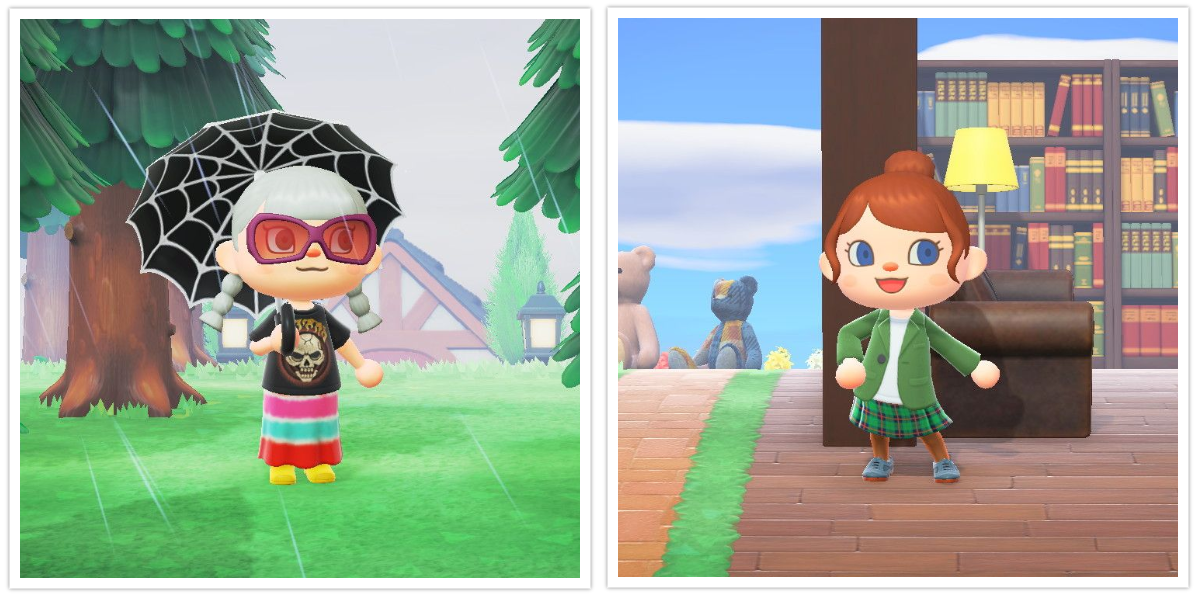 Hannah and Lina's avatars in Animal Crossing: New Horizons. Lina's avatar has long braids, a spider-web umbrella, a skull shirt, and a rainbow-colored skirt. Hannah's avatar has red hair pulled up in a bun, a green blazer, and a green and red kilt.
Since July 2020, whenever there was a chance to use the game to promote or support our activities, I jumped at the opportunity! I first built a Kanto branch of CMU Libraries on my island, complete with an Enigma machine (represented by a typewriter - I had to work with what was available!) just like the one we've got in our own Special Collections, as well as our beautiful exterior lights that shine during the night at Hunt Library. It not only provided a way for me to use this virtual space to promote our own activities, as is shown in the tweet below, but also gave me that feeling of still being able to 'visit' CMU Libraries despite working from home. This led to many tweets and images used to connect users with our resources via elements in the game!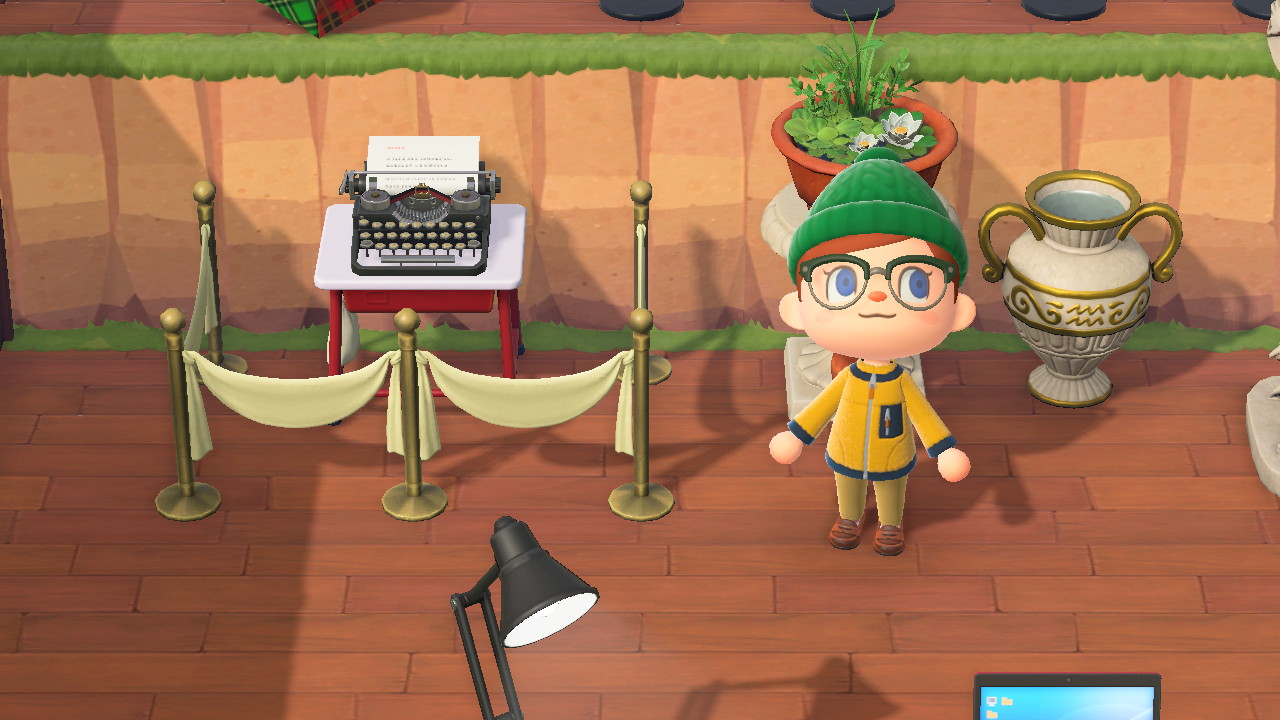 Hannah's avatar stands in front of the Enigma machine at the Kanto branch of CMU Libraries. It is just a typewriter using creative liberty to represent the real Enigma machine at CMU Libraries! She is wearing a yellow fleece jacket, khaki pants, and a cozy green hat.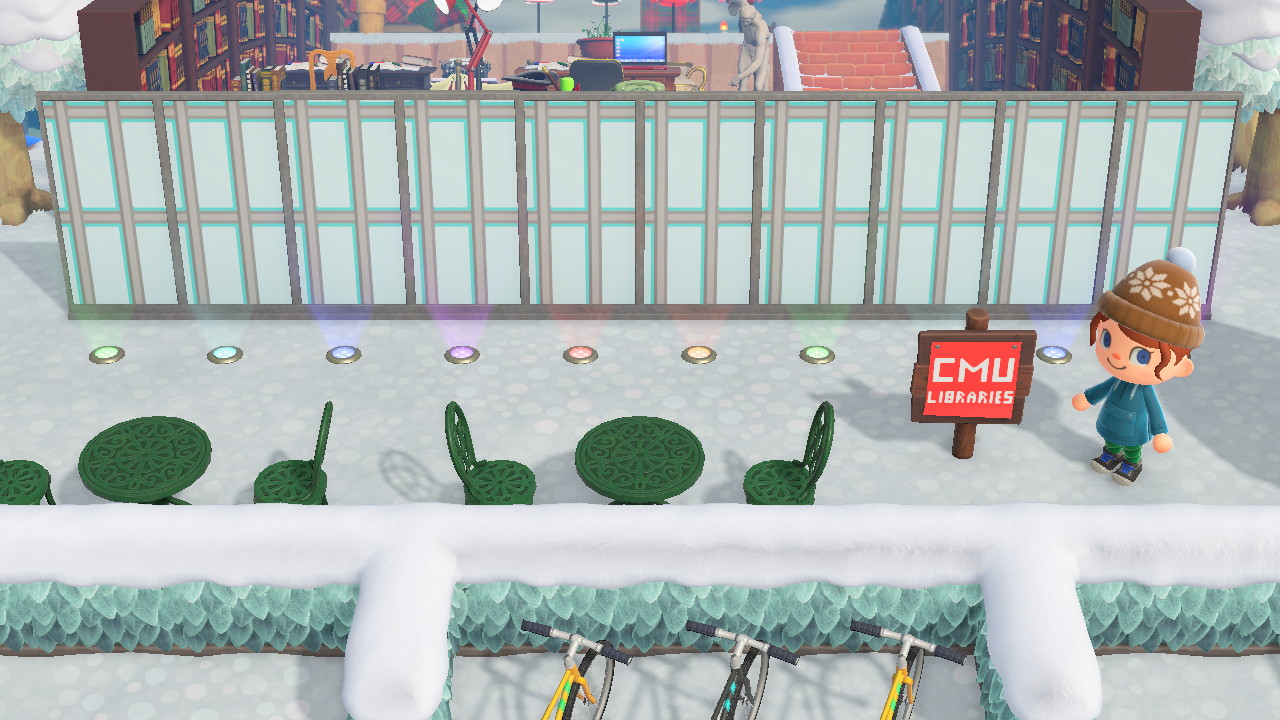 Hannah's avatar stands in front of the Kanto branch of CMU Libraries during the day, in front of simple panels made to look like the exterior of Hunt Library with grey and light blue steel panels. There is snow on the ground, and she is wearing a cozy green hat and a blue jumper.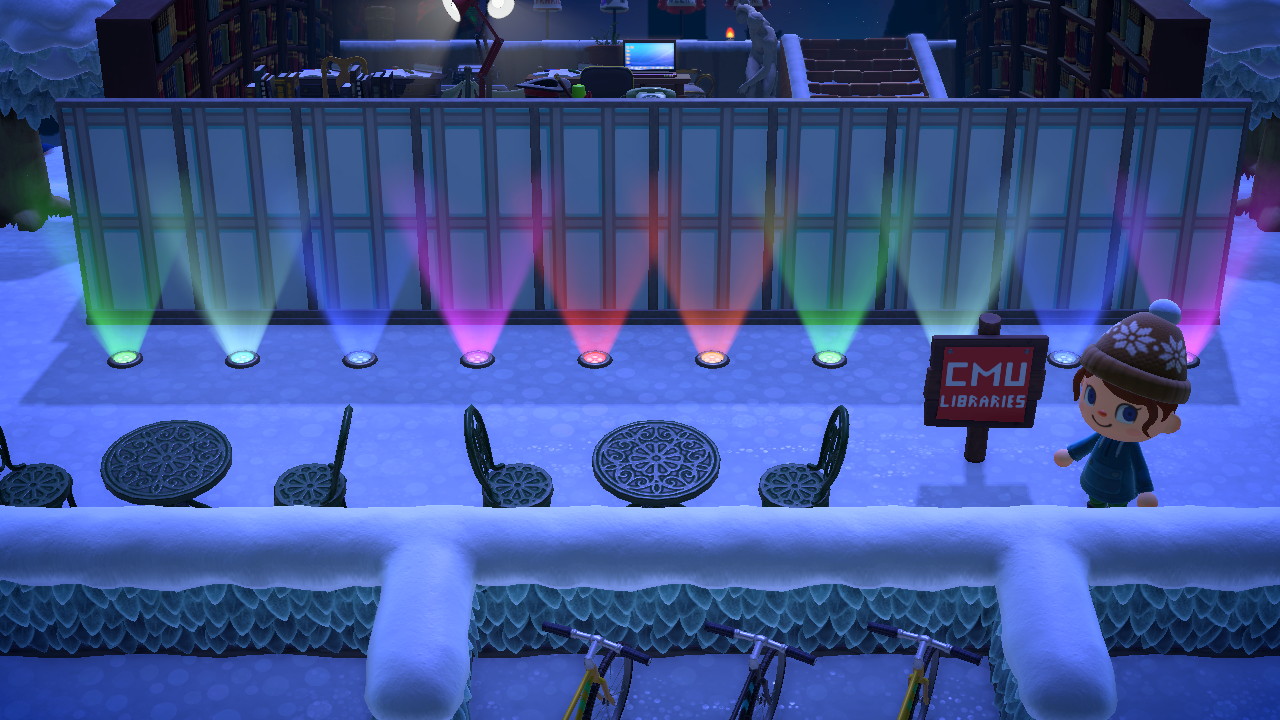 Hannah's avatar stands in front of the Kanto branch of CMU Libraries at night. The exterior rainbow lights seen on Hunt Library in real life have been recreated with blue, light blue, green, pink, red, and yellow floor lights.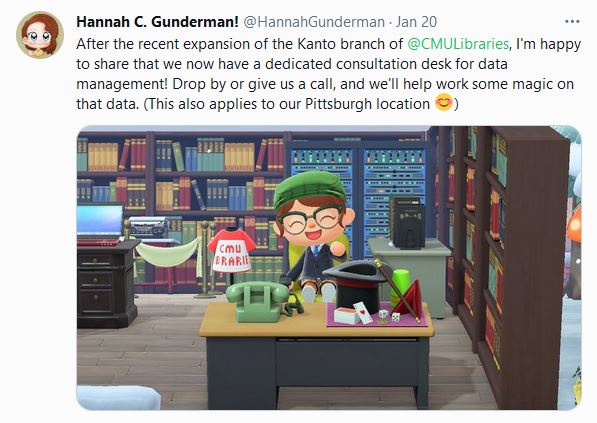 Hannah's avatar in the game is sitting in front of a desk with a telephone and a set of items used for magic tricks. The text reads "After the recent expansion of the Kanto branch of @CMULibraries, I'm happy to share that we now have a dedicated consultation desk for data management! Drop by or give us a call, and we'll help work some magic on that data. (This also applies to our Pittsburgh location)"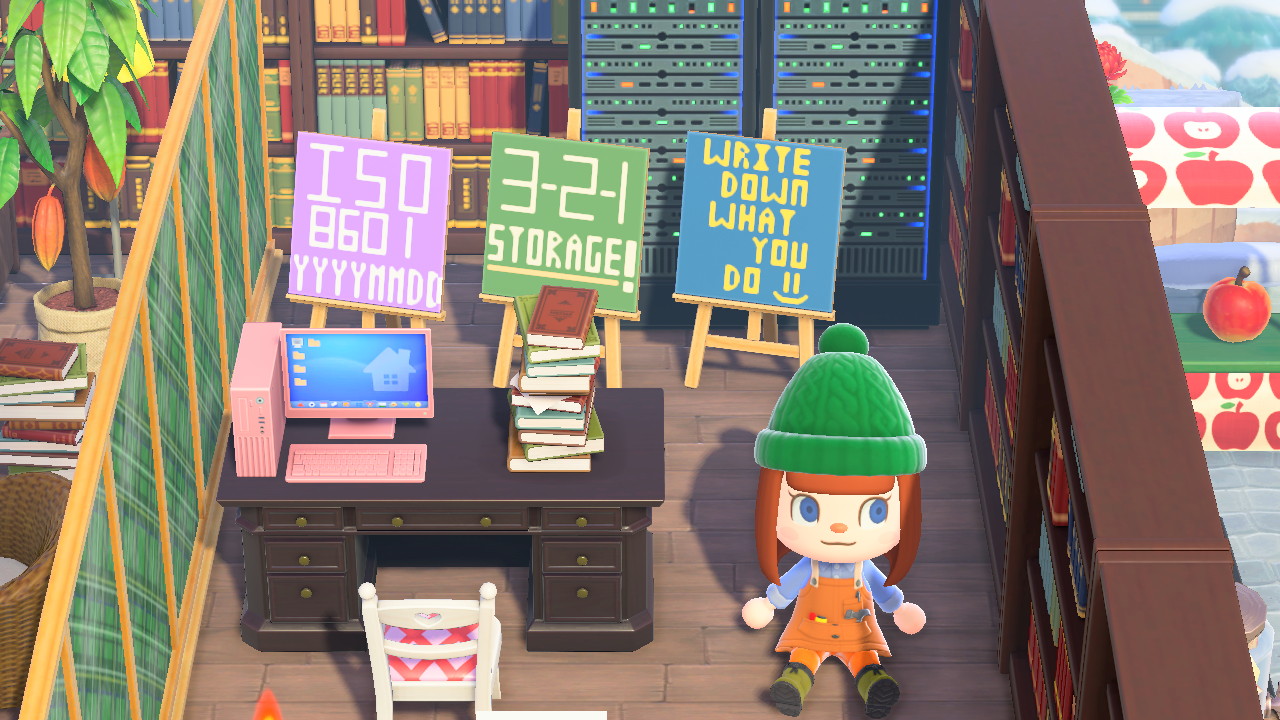 Hannah's avatar sits in the Kanto branch of CMU Libraries, in front of three signs which have data management principles on them, including "ISO 8601, YYYY-MM-DD", "3-2-1 Storage!", and "Write down what you do."
Next came Love Data Week 2021, which pivoted to entirely virtual due to COVID-19. However, using Animal Crossing: New Horizons to promote the week's events, combined with the wonderful workshops and engagement provided by my colleagues at CMU Libraries during the week, meant that we could still connect with our campus in engaging ways to promote data enthusiasm. This included making custom clothing designs in the game and sharing the designs for open download, as well as creating fun videos with my avatar modeling the designs. Check out some examples below (you can find the full list of custom designs and videos in the Tartan Datascapes issue from February 2021)! These are still available for download at creator code MA-6005-3774-5644, so if any of these are appealing to you, feel free to use them on your own island!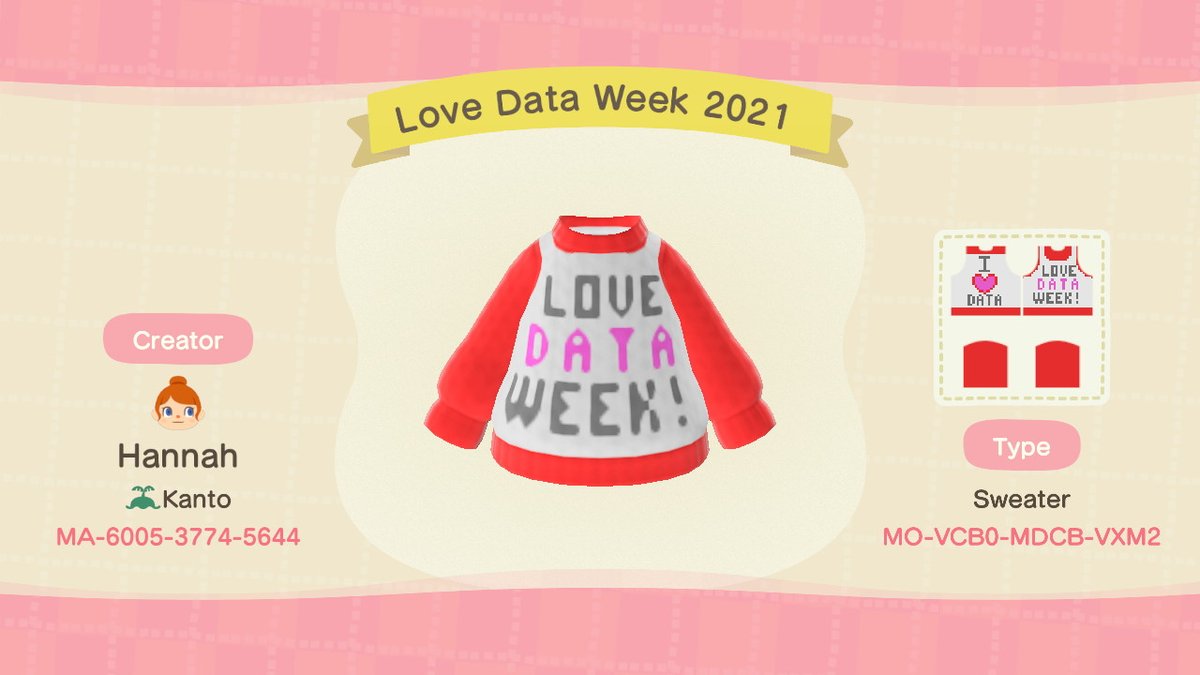 The custom sweatshirt design created by Hannah for Love Data Week 2021. The sweatshirt is red and white, with the text "Love Data Week!" on the front. It can be downloaded at design code MO-VCB0-MDCB-VMX2 or at creator code MA-6005-3774-5644.
Hannah's avatar modeling the "Love Data Week 2021!" sweatshirt on a runway, with her villagers cheering and applauding as she walks the runway. There is peppy, upbeat dance music playing in the background.
What does the future hold for Animal Crossing: New Horizons at CMU Libraries? I've certainly got no plans to stop playing the game anytime soon, which means I've got lots of plans for continuing to use the game at CMU Libraries! We're planning lots of cool things for the future, including more Animal Crossing: New Horizons videos, streams, and potentially even some workshops within the game! Stay tuned and in the meantime, be sure to follow us on Twitter (@CMULibraries) to see some promotional videos I created to highlight some upcoming data workshops! Check out an example of one below, which was used to promote my 'Writing an Effective Data Management Plan for Grants' workshop that happened on Thursday, March 18th:
Hannah's avatar is in front of a classroom with all of her villagers, who are sitting at school desks covered in books, papers, laptops, and pens. They are looking at the front of the class at whiteboards with writing on them, as Hannah laughs and smiles. They are all showing different emotions, including happiness, confusion, and curiosity.
Stay safe, all, and see you next month at Tartan Datascapes!