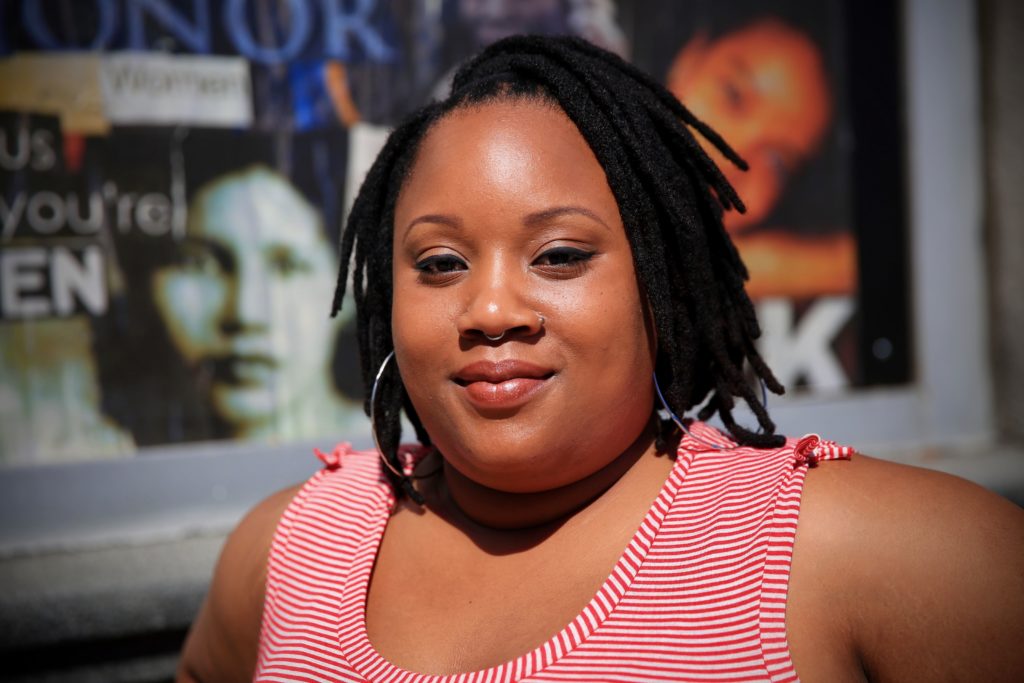 1. Tell us a little about yourself. 
I was born in San Fernando, Trinidad and Tobago. I have lived in Pittsburgh for 19 years and live in the Hill District. I am working on slowing down, breathing deep and listening to myself more. I am a daughter, sister, friend, godparent, collaborator, multi-disciplinary artist, doula and librarian. My community has enriched my life and I am eternally grateful for that. I am the creator of The Black Unicorn Library and Archive Project which grows out of my love and appreciation for the writing of Black women, LGBTQ people, and a desire to share space that affirms and celebrates us.
2. What is the Black Unicorn Library and Archive Project and how did you come to found it? 
We focus on celebrating Black literature and reading in community. We center the writing of Black women, queer, non-binary and Trans people, and we lift up cultural contributions throughout the African Diaspora. We explore libraries as sites of possibility.  
3. What can attendees plan to hear at your talk? 
I will be speaking about cultural justice and why it is important for people whose communities have historically and currently face cultural erasure be centered as the keepers and stewards of their own cultural production. Why self-determination is an essential component in addressing the impact of colonization on how Black, Indigenous and POC communities think about ourselves, what access we have to controlling our own narratives, and the resources available to us to do that work.
4. What is the importance of community archives, especially at this moment? 
I think it's important for us to think about who holds power in the creation and telling of narratives that directly impact our lives. There are ways of knowing, ascribing value, and appreciation that exist beyond the frameworks offered by Eurocentricity, white supremacy, ableism, and capitalism. We must document our stories and our lives, so that those who come after us find evidence of our existence, and are able to connect to their cultural legacies without having to continuously navigate systems of violence to access them. It is about healing, joy, truth, and also honoring the everyday living libraries in our communities.
5. The fall semester exhibit at the University Libraries is about the gaps of diversity in institutional archives collecting. Is there anything you don't have in your archive that you wish you did?
I feel like my work is about looking critically at how archives are/were established and the relationship that the collections have to the people of the communities that are represented within them. My work is not to act as a supplement to institutional archives but to learn about and honor my cultural heritage. Archives and libraries reflect the interests, scope of knowledge and biases of the people who work within them. I am interested in asking us to examine how anti-blackness, white supremacy, sexism, homophobia, transphobia, ableism, and classism impact our ability to include more voices and narratives in these collections. I think if we ask more questions, we can create solutions together that are justice-centered. I think that archives, as much as they are about preserving the present and the past, are also about futurity and who has the right to be remembered and the right to continue to exist. I want to live in and see abundance represented in our collections. 'My' archive doesn't belong solely to me. Its function is not to be owned but to be shared, explored, and learned from. My life is always blessed by seeing Black people in ALL of our expressions around the globe!