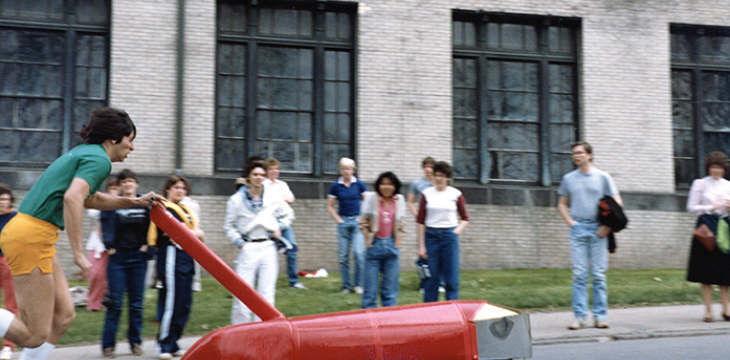 How do you honor Carnegie Mellon University's unique and most beloved tradition as it marks its centennial? A team from the University Libraries and the Entertainment Technology Center created 'Nuts, Bolts, & Wheels: 100 Years of Buggy,' a new history of the sport and an engaging preview of what's to come when they complete their artistic vision.
The 31-page online book, published by CMU's ETC Press and available for free download, chronicles the rich history of Interfraternity Motor Sweepstakes, commonly known as Buggy, through each decade since it began in the 1920's. The volume celebrates the CMU students whose collaboration, ingenuity and commitment have advanced the sport technologically and athletically through 100 years of pursuing excellence.
Julia Corrin, university archivist, Heidi Bartlett, University Libraries designer and IDeATe instructor, and Brad King, editorial director of the ETC Press and University Libraries, created 'Nuts, Bolts, & Wheels' from work they began in early 2020 on their initial multiphase project, a celebration of Buggy's first century.
Julia describes Buggy as a special 'baseline experience' that connects alumni and current students across time.
'It's exciting to show the thread of innovation, experimentation and competition that's always been a part of our culture,' she says. 'Buggy is art and science.'
Their project's original scope included an exhibit, a presence at Spring Carnival 2020 and a commemorative coffee table book.
The exhibit would have inaugurated Hunt Library's new exhibition space. Funded by Lonna (A 1969) and Michael (E 1968) Smith, who, Julia says, have a 'deep and fundamental love for CMU,' this flexible space is the first of its kind on campus as well as the only area committed to showcasing CMU's history and culture through images, graphics and artifacts.
The COVID-19 shutdown changed the plans for Spring Carnival and Buggy 100 — and canceled the library display and the lavish book. Julia, Heidi and Brad channeled their energy into producing 'Nuts, Bolts, & Wheels' for Virtual Carnival in only 10 days.
Read the rest of this story on the Alumni Community page.