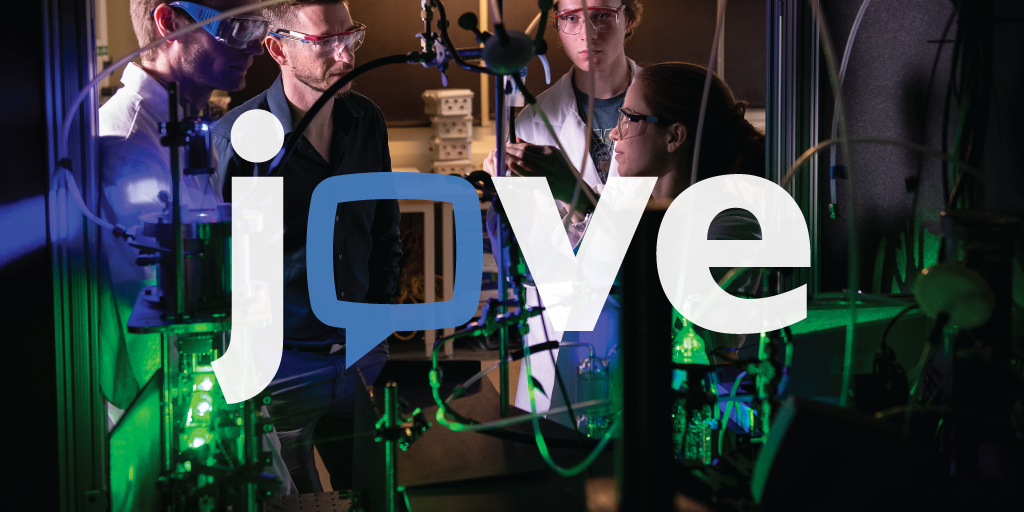 As instructors prepare for hybrid instruction this fall, the University Libraries continue to support remote learning with a new unlimited license for The Journal of Visualized Experiments (JoVE), a suite of resources that can be used to teach scientific methods and concepts for lab and lecture courses. All members of the CMU community have full access to the JoVE resources highlighted below, as well as one-on-one support with JoVE subject experts for making curriculum maps, embedding content in Canvas, or adapting it for use on Zoom.
The Jove Journal publishes peer-reviewed methods articles with video demonstrations for a large variety of science and engineering disciplines including Biology, Chemistry, Physics, Psychology, Neuroscience, Biomedical Engineering, and Robotics. 
The Science Education collection contains many additional resources for teaching. The videos in this collection are easy-to-understand demos of common laboratory techniques.  Subtitles are available in 13 languages.  Instructors can create questions or use pre-generated questions for quizzes on the techniques. 
JoVE Core are online textbooks with short animated videos on fundamental concepts that can be useful in both a lab and lecture setting. JoVE is continuously expanding their offerings, and Core Chemistry and Molecular Biology are expected to be released soon. JoVE also has an online lab manual and encyclopedia of experiments.
Emily Drill, Assistant Teaching Professor in the Biological Sciences department, has been using JoVE to supplement in-person learning in the biology lab classes for the past couple of years, but the resource has proven particularly valuable during the pandemic. 
'We used JoVE videos in a variety of experiments to help students better understand the procedures described in writing in their lab manual text that they were unable to do under the circumstances, in order to give them more background and context for interpreting provided data,' Drill said. 'Experimental procedures can be difficult to understand from a written list of steps; it is crucial to be able to see the procedure being done. In absence of being able to show and do the experiments in person these videos were a big help.'
Professor Drill also took advantage of the curriculum map service offered by JoVE to find all of the relevant videos for her classes. This service is currently being used by a number of faculty at CMU in various science and engineering departments. 
To get started with JoVE, you can access the platform through the Libraries Databases A-Z list. Please contact your subject librarian or use this form if you have questions about JoVE or would like to utilize their curriculum map service. You can learn more about how to use JoVE for your instruction with this webinar that they recently gave for CMU instructors.
Melanie Gainey, Librarian