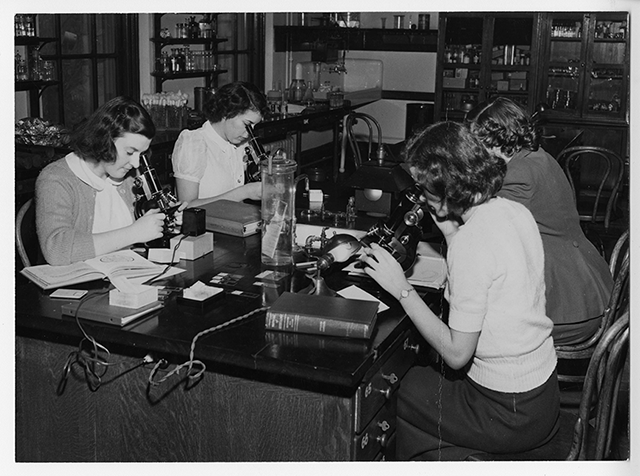 Students of the Margaret Morrison Carnegie College.
What do we call this period when the library is physically closed, but we're continuing to work? Inspired by our boss, we like to call it our 'interlude'. While that name might suggest we're idle or taking a break, we think of it as our work-from-home workcation. Instead of a staycation where you get a lot of little projects done around the house, we're tackling all the work projects we never quite seem to have enough time for.  That's our interlude, and here's what we've been up to.
While the University Archives is closed due to the Covid-19 virus, we've been focusing on what we can do to make more of our resources available. One of the collections we have been working on is our General Photograph Collection, a massive treasure trove of images documenting life at Carnegie Mellon University. Nearly all of the old photos of CMU you see during Spring Carnival, Buggy, Reunions, and on social media come from this collection.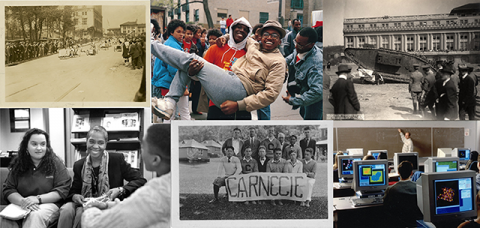 Images from the General Photograph Collection.
These photos -- most of which are taken by university staff photographers -- document campus life from the Porter Hall groundbreaking in 1903  through Carnival in 2014.  Containing approximately one million images, it is one of our most popular collections.  You can find nearly any aspect of campus life in these photographs -- from award ceremonies, commencement and faculty portraits, to classroom candids, buggy races, and the fence.  This collection is an almost bottomless treasure trove and defines how we see and understand our campus.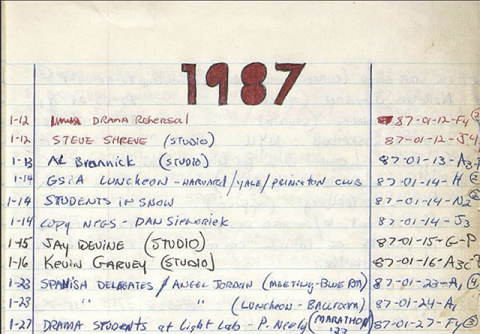 An example of the handwritten log book, maintained by the university's staff photographers.
The General Photograph Collection is continually growing as departments across campus continue to take more photos of life at CMU. Unsurprisingly, since the collection documents both our past and our present, nearly 70%  consists of 35mm negatives, with digital photographs on CDs comprising another 15-20%.  These images -- taken by our campus photographers, have been organized chronologically by the date they were taken. We are taking a similar approach as we catalog them -- starting with the oldest and working our way up to the present day. So far, we have managed to catalog most images through 1987, and you can browse the inventories on our website.
We're still working on the later images from 1988 to 2014. Thankfully, the university's staff photographers maintained meticulous hand-written log books that contain dates, subjects and unique job codes for each photo shoot. We digitized the log books a number of years ago, but because they are handwritten by multiple people we need to manually transcribe them in order to make them searchable. Without these transcriptions, anyone looking for a photo from the last 30 years has to manually read through hundreds of pages hoping to see a word or phrase that matches what they're searching for. So when we began entertaining the possibility that we might be working from home in the coming months, transcribing the rest of the General Photograph Collection became one of our top (and most exciting!) priorities.
Transcribing 28 years of 35mm negative inventories has been a team effort.  We were thrilled when Chris Cramer and Aryn Gaslowitz, two members from the Library's Access Services, agreed to help. Chris manages the library's course reserves and multimedia equipment. He's also in charge of hiring and training all the Library's student employees. Aryn oversees the Libraries offsite book storage area, where she manages 400,000 books, scans material on demand, makes sure books requested by students and faculty make it to the right library, and handles new arrivals.  
For this project, Aryn and Chris have been diligently transcribing the hand-written log books into spreadsheets, which we will use to import the data into ArchivesSpace, our content management system. 'It's been fun finding things out about the university that I didn't know before, such as GSIA was Tepper was before 2004,' said Chris. 'I also like Googling names of students in photos and seeing that they are now directors at companies or doing other important things.' 'It has been fun to see what shows the drama department has put on over the years' said Aryn. We've also become pros at deciphering the various acronyms the University has used throughout the decades, like HbH (Hamburg Hall), HH (Hamerschlag Hall), TODTW Day (Take Our Daughters to Work Day), and SARC (Student Alumni Relations Council). 
Once Chris and Aryn complete the spreadsheets, we will get to work preparing the data for our users.  When the library re-opens and we're able to double-check a few irregularities -- like was this set of negatives indeed given to Joe as noted in the log book? --  more years of the General Photograph Collection will be available on the Archive's website: https://findingaids.library.cmu.edu. In the meantime, take a walk down memory lane and checkout some of our favorite images on Flickr.
Want to learn more about the University Archives' General Photograph Collection? Drop us a line at archives@andrew.cmu.edu.