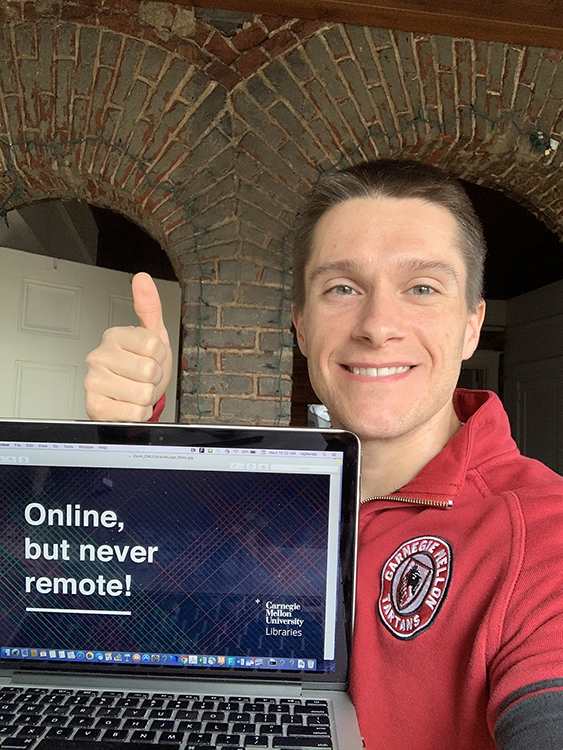 As CMU operates in an online, work-from-home environment due to the disruption caused by COVID-19, the Libraries continue to provide support to all members of our community, even those not associated with specific colleges or departments. 
There are many units on campus that work on projects that connect CMU research and research efforts to the business and industry communities at-large. One of the main units on campus that works in this realm is University Advancement. As the Business & Economics Librarian, I work closely with this unit to provide strategies and resources that are helpful in their endeavors. I recently held a Zoom workshop entitled 'Company & Industry/Market Research Strategies and Resources' for a group of 11 members of the University Advancement team. 
The workshop featured four sections devoted to resources for public and private company intelligence, creating target company and target executive lists, finding trade journal articles, and conducting industry/market research. In the company intelligence segment, resources like Mergent Online and S&P Capital IQ were highlighted that cover public company research including detailed company financials, executive biographical information, important equity and analyst reports on companies, and competitor lists. Private company databases like CB Insights was discussed for venture capital (VC) and financing data for companies in this sphere. 
The target company and executive lists section focused on some of the same databases that have this capability. This is an important need for the University Advancement team as they, for example, try to generate a list of companies in a 100-mile radius, or create a list of executives who are also alumni to contact for certain CMU-related projects or initiatives. 
The trade journal section provides staff with strategies to track new and emerging companies, products and services, and industry-related news that may not appear in traditional publication outlets like The New York Times or The Wall Street Journal. Resources for this section included Business Source Premier and ABI/INFORM. Lastly, the industry/market research section focused on resources that provide information on market size (in revenues), industry trends, products and services segmentation data, and major players and their market share in a particular industry or market. There are many resources that are helpful in this area, but IBISWorld and BCC Research were two that were highlighted. A discussion of the specialized and niche nature of the market research databases also took place. 
The workshop lasted for 70 minutes and many in attendance were quite pleased to know that the Libraries provide these resources for campus-wide use. A lot of the resources have direct application for CMU University Advancement projects as well. 'I am not exaggerating when I say that every section of [the] presentation has immediate application to the work we do,' said Richard Kepple, Senior Director of Advancement Research. 'There were a number of sources that are new to me, and, even in the ones I am familiar with, [Ryan] took us to a new depth. I find the work-from-home environment challenging, and [Ryan] added some much need inspiration.'
I am happy to work with any CMU affiliate on strategies and resources for business, economics, and entrepreneurship projects. Please refer to these overarching Business Research, Economics Research, and Entrepreneurship Research guides that I have put together that include resources and databases that can be helpful. Feel free to reach out to me if you have any questions or would like to schedule a consultation. I can be reached via email at rsplenda@andrew.cmu.edu and am happy to set up Zoom meetings as well. 
Ryan Splenda
Business and Economics Librarian