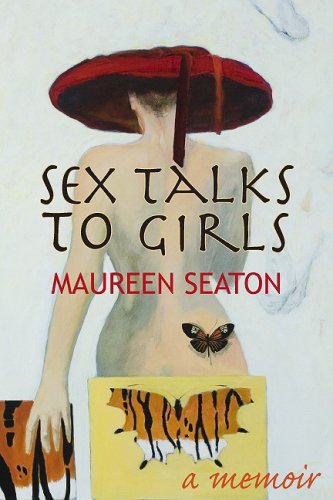 Sex Talks to Girls: a Memoir by Maureen Seaton (Madison, WI: University of Wisconsin Press, 2008).  Reviewed by Jan Hardy.
I expected Seaton's memoir to be about her work as a health-care advisor or nurse, but the title is from a 1914 advice book, used just for humor. Given that Seaton dedicates her book to her two daughters, and that she writes of her sexual experiences, I'll grant her the slightly misleading title.
Seaton's writing is full of surprising metaphors and quick witticisms, describing mistakes extravagantly made and lessons learned the hard way. As a girl, she blunders through religious fervor, intense affection for her girlfriend, anorexia, pills, and budding alcoholism. Her parents move to Queens, where the basement wet bar provides 'ideal inspiration for the start of my life as a saint with a taste for highballs.' At least, she starts to eat again 'to prepare for my nights of drinking.' As Seaton notes caustically, 'alcohol saved my life.'
In college, Seaton finds a circle of (drinking) friends and marries her boyfriend Harper (also a drinker). She stops drinking while pregnant, then starts again, but after the birth of her second daughter, describes a drunken moment 'when I suddenly realized no one was dancing but me.' Seaton describes the moment simply, on a page by itself with a lot of white space. I love how she uses these spaces to give weight and depth to her experience.
Continuing through AA, her husband's leaving, therapy, her daughters growing up, a second husband and his leaving, and then her coming out, Seaton's story goes from funny to poignant, often in the same sentence. The effect is more realistic than jarring, and the short chapters always moved me forward. Seaton describes writing magazine articles, 'things I could sell' and editing a page down to a 'blip.' A friend in AA identifies these as poems, and Seaton's response – 'God help me!' and 'Who would feed us?' made me laugh out loud. In her acknowledgements, Seaton says 'As a practicing poet I actually had little hope of writing past page 3.' I think Seaton's poetic voice only strengthens her memoir; this is one of the few life stories I'd reread for the delicious quotes.
Near the end of the book, meeting Mars at a Women in the Arts AA, Seaton at first wonders why this 'guy' isn't thrown out; then she is charmed by this butch lesbian. Mars asks her a few years later what she thought when she realized she was attracted to a black woman, and Seaton replies That part didn't surprise me, honey … it was the fact that you were my first bonafide bulldagger that took my breath away.  At this point in the memoir I was cheering – it's all too rare to find loving descriptions of butch lesbians and butch-femme relationships.
Much more happens in Sex Talks to Girls, but I'll leave that for your discovery. 'My life has been a gathering of elegant information,' Seaton writes, and I totally enjoyed the twists and turns of her life stories. Maybe I'll delve into her 'blips' of poetry next.