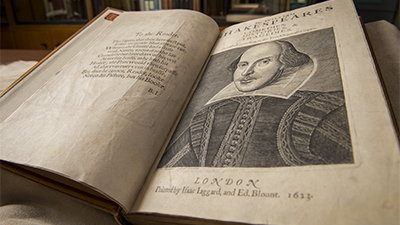 In the year 1623, a group of publishers, printers and actors banned together to ensure Shakespeare's legacy lived on several years after his death, gathering 36 of his plays into a collection titled "Mr. William Shakespeare's Comedies, Histories, & Tragedies." An estimated 750 copies of were disseminated that year and due to popular demand, a second edition in 1632, third in 1664, and fourth in 1685.
"If you lived in the 19th century and were middle class, you might not have had any other books in the house, but on your parlor table you had the Bible, and you had Shakespeare," said Mary Catharine Johnsen, former special collections librarian at CMU Libraries.
The first folio came to CMU Libraries Special Collections by way of a generous donation by the estate of Charles J. Rosenbloom in 1974. Upon his death, Rosenbloom's rare book collection was divided among four beneficiaries, including his alma mater Yale University and Carnegie Mellon University, where Mr. Rosenbloom was a Life Trustee Emeritus.