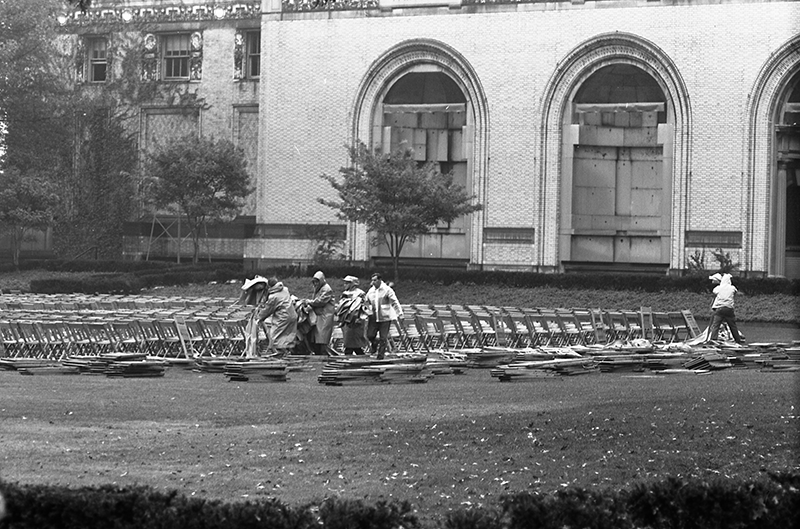 This Friday, Carnegie Mellon will inaugurate it's 10th president, though we don't actually have much experience with inauguration ceremonies. Not only are we a relatively young institution, but most of our presidents served relatively long terms.  Hamerschlag stayed for 19 years, Doherty for 14, Warner for 15, and Cyert almost broke Hamerschlag's record with 18 years.
The tenures of Hamerschlag, Baker, and Doherty were focused on shaping and stabilizing a new institution, not taking the time to celebrate it. In fact, Doherty famously infuriated students by announcing an end to athletic scholarships to ensure the institution was fully focused on academic pursuits.
By the end of Doherty's tenure, Tech was on more secure footing and was on an upward trajectory and there was a desire to celebrate. Dr. Warner's inauguration in 1950 was the first ever, and it embraced the pomp and circumstance we now expect. Over 20,000 invitations were mailed, including invites to the entire alumni body. The event was still an efficient one though. In addition to Warner's inauguration, it also celebrated the 50th anniversary of Tech's founding, homecoming, reunion, and Carnegie Day (the annual celebration to honor Andrew Carnegie).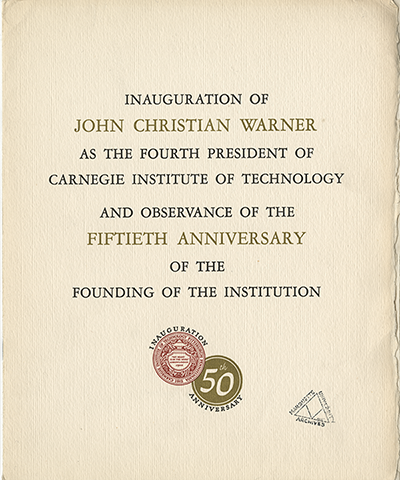 Warner's inauguration took place in what is now Skibo Gymnasium. They managed to fit 1,800 seats in, 700 of which were reserved for students. The ceremony was attended by Robert Doherty, the outgoing president, and Mrs. Hamerschlag, the wife of the first president and featured an address by Mayor David L. Lawrence and invocations from Reverend Hugh S. Clark and Rabbi Solomon B. Freehof.
President Stever continued the tradition of having the inauguration ceremonies coincide with homecoming. While the ceremony was originally going to occur on the CFA lawn, rain moved the celebration into Carnegie Music Hall. Similar to this Thursday and Friday's programming, the Stever inauguration also included a number of academic panels, specifically focusing on the role of the university in the community and as a community.
Cyert's inauguration took place in the spring and launched a wave of more modest inaugurations. It took place in the Skibo ballroom and classes were not cancelled. President Mehrabian must have followed in Cyert's footsteps, because we have no record at all of his. President Cohon delivered a speech in McConomy Auditorium and then hosted an open reception in Rangos.
The events this week look to to be a return to the precedent set by Presidents Warner and Stever – large celebrations not just of the new President, but of CMU and its community.
by Julia Corrin, University Archivist