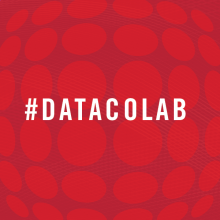 The Data Collaborations Lab (dataCoLAB) at CMU Libraries connects the research community across disciplinary borders, and facilitates collaborations between data producers and data scientists, creating opportunities for people with different technical and disciplinary backgrounds to work together.
The program connects researchers who want more from their datasets with individuals who have data and computer science skills. The ultimate goal of the dataCoLAB program is to help build a strong community and a healthy data ecosystem. Anyone from the CMU or Pittsburgh community can participate. Perhaps you have an existing dataset and want help analyzing, organizing, or visualizing it. Or maybe you have data science skills and want to gain experience consulting on interesting real-world data problems.
Information professionals from the CMU University Libraries will help participants connect with collaborators and get started. Participants get support on research data management, project documentation, and other research methodologies. Your library support will help you find and use tools for collaborating and documenting your project, and provide guidance on best practices for making your project publicly available and citable.
Questions? Email the dataCoLab or join us during office hours, held weekly!
Manage Information & Data
Work with our specialists to evaluate, select, and implement the tools to organize your data and keep your project on track.