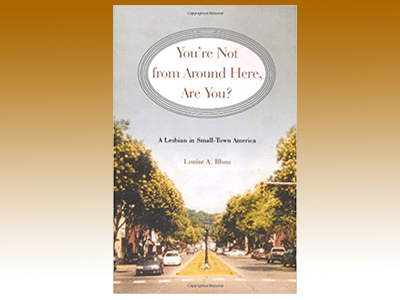 You're Not From Around Here, Are You? : a Lesbian in Small-Town America by Louise A. Blum (University of Wisconsin Press, 2001)
I'd never consider living in a small town, and when my wife and I drive past or through one, I usually comment that I'd go crazy if I lived there. I'd miss the diversity of race, religion, sexual orientation, the cultural events, and relative tolerance for lesbians and gays. A lot has changed since Blum wrote her book in 2001, notably the ability for me to say "my wife" legally, but I'm sure the attitudes in her small town are still slow to catch up.
Blum moves to Wellsboro, PA for a university teaching position, and settles into a routine of work and living alone. "But here was Connie, big and loud and full of life, telling me straight out that she was gay" – and slowly (almost painfully slowly!) Louise and Connie fall in love. Louise's coming out and self-acceptance is also very gradual, with tension leading to drinking and arguments, and finally counseling. The women buy a house together and have a commitment ceremony. Then they decide to have a baby through Louise's insemination, which proves to be more difficult than expected.
Coming out isn't simple, and it's something you have to do over and over again, to doctors, nurses, neighbors, and family. Realizing that she can lead by example, Blum comes out to students and fellow teachers, sponsors a campus gay & lesbian support group, and even agrees to be interviewed by a local newspaper. Louise and Connie are met with silence, avoidance, obscene phone calls, letters to the editor, threats, and even harassment by the local police. I was amazed by the author's courage, and sympathized with her fatigue. "Just once," she says, "I wanted to be a normal person, without having to worry about a reaction to my very existence." Blum's details are visceral and her humor is engaging; one scene in her local post office had me laughing and cheering her on.
Reaching out to other lesbians in the area, Connie and Louise organize a potluck, and hear some of the other women's stories. Some are out and proud, others too afraid to greet each other on the street. Louise describes the backlash they have endured and comes to understand that "Women were out all over the place in their own ways. So what if [they] didn't want to live the way we did? Who was I to judge?"
Both women's families reject them either harshly or indirectly. "It was ludicrous enough to laugh about, the idea that they would truly believe that Satan had a hold on us, but this was her family after all; they had conceived her, birthed her, raised her. Their tentacles extended still, locked deep into some obscure recess of her soul, as if at any moment they could tighten their grip and retract, suck her back into their womb, tuck her in and pat her down and hide her away from me forever." That passage shows both the strength and weakness I found in Blum's writing – the impressive imagery sometimes extending way too far.
But I was with Louise as she described her pregnancy, her illness and complications, and the growth of her love for Connie. Little Wellsboro and other small towns may still not be an easy place for lesbians and gays, but Louise and Connie and other brave women and men are changing them for the better.
by Jan Hardy, Cataloging Specialist
Tags
:
Nonfiction
, See all tags